Your Events are Different.
EventPilot is Designed for You.
EventPilot is the only meeting app specialized in medical, pharmaceutical, healthcare or scientific conferences with comprehensive schedules containing thousands of Poster sessions, offline searchable scientific abstracts, offline PowerPoint presentations, and a multitude of disciplines within the program. Why our clients call it the best

Best app ever for a medical conference!
Well done ACC.
Briancardio - Mar 14, 2015 | Apple App Store Review for ACC.15
"The Neurosci16 planner app is really impressive, I loved it!"
Sunny Siddiqi
SfN Attendee on Twitter Nov 16, 2016
Our Clients in Healthcare and Science Include
The Only Meeting App with a Scientific Search Engine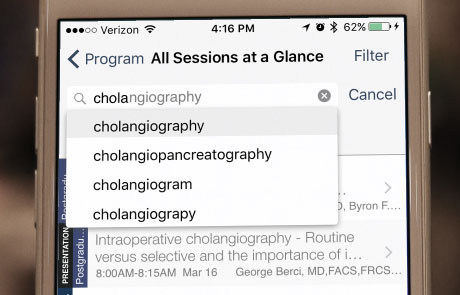 "Just try searching for cholangiopancreatography on a mobile device! It's effortless and quick in EventPilot conference apps. The search engine is fantastic and is one more reason EventPilot is the best meeting app for medical and scientific conferences."
Jason Levine
Vice President, BSC Management
Key Event App Features for Scientific and Medical Meetings
Easy Data Updates
Your time is limited so we made data updates to medical meeting apps fast and easy. Our scientific and medical conference apps offer direct
database integration with your systems
so that real-time data updates only take seconds.
High Performance
Attendees can access information instantly. EventPilot mobile apps are designed to quickly process very large meeting programs that consist of hundreds of sessions, thousands of speakers and exhibitors, and thousands of abstracts.
Poster Presentations
With EventPilot, you can offer an easy to navigate mobile meeting app that allows your attendees to choose between adding complete poster sessions to their conference app schedule or individual poster presentations.
Offline Slides & Searchable Abstracts
Provide the latest research results to your attendees directly within the medical conference app and include thousands of scientific abstracts or PowerPoint presentations. Offline content access ensures the best attendee experience. Learn more about the
PowerPoint viewer app
features.
Note Taking and Bookmarking
The EventPilot medical meeting app keeps your attendees' notes organized and allows them to email a complete report of their key learnings after the event. The report includes all notes and star rated items such as sessions, presentation slides, speakers, exhibitors, or new contacts made.
The unique
scientific search engine
is specifically designed for your medical and scientific conference app. Search combined with the advanced smart filters, interactive metatags, and intuitive UI, users can easily build schedules from massive event programs with thousands of sessions.
CME Tracking
Easily enable your attendees to flag any credit eligible sessions directly within the medical meeting app for future claiming. Our API gives you easy access to the flagged CME and enables integration with third party vendors.
In addition to the mobile meeting app, EventPilot has an optional
online planner
that integrates directly into your website. Your attendees can begin planning their schedules directly via your website and download their schedules once the event app becomes available.
Interested in Upgrading Your Medical Meeting App?
If you are interested in the best medical meeting app for your next conference, please contact us using the form below.