Increase Sponsorship Revenue with Your Event App
Attract new exhibitors and exceed your sponsorship revenue goals using the unmatched variety of sponsorship opportunities and ad placements available within the EventPilot® conference app. And with 24/7 ad editing, it is never too late to add or update a sponsor.
Multiple Places for Sponsor Ad Placements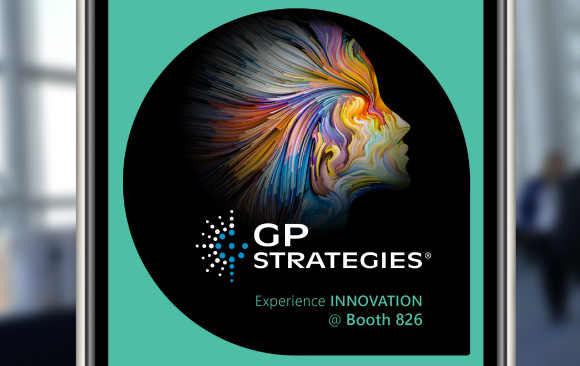 Splash Page
As your event app opens a "splash" or intermediary page can be added with a sponsor's logo or special message before landing on the conference home page.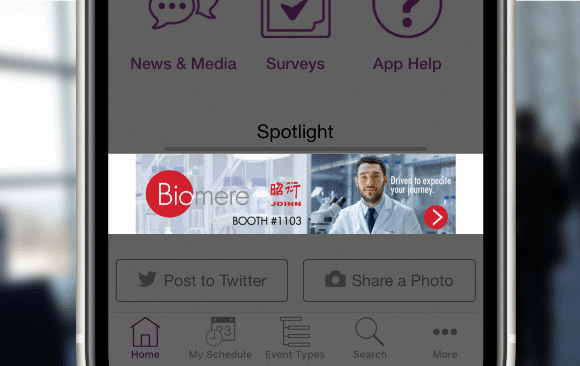 Banner Graphics
Interactive graphics can be included on the home page. The graphics can remain for the entire conference or can be set-up to appear for a specific duration of time.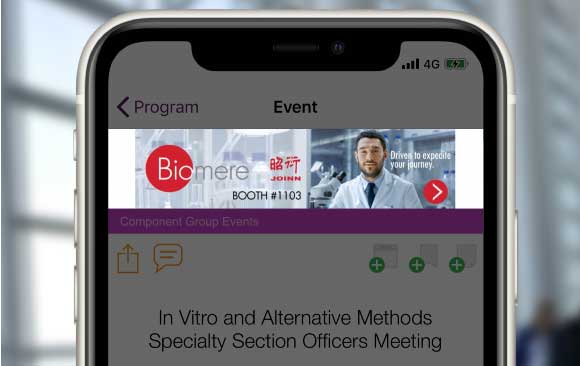 Session Banners
Ensure attendees see your sponsors with graphics added to individual sessions. As attendees review and select individual events, sponsors are prominently displayed.
Sponsorship Revenue Opportunities
Drive Expo Traffic
Include sponsors within your keyword search terms or add them to your Expo Hall floor plan to allow attendees to easily find their favorite exhibitors.
Showcase your exhibitors and sponsors through a virtual expo where your exhibitors can market their products and services to your attendees remotely.
Promote Exhibitor Activities
Use ScanHunt® gamification to create exclusive sponsorship opportunities. Integrate activities requiring attendee interaction with participating sponsors.
Leverage Media Links
Your exhibitors upload links to enrich the attendee's experience with flyers, product fact sheets, company brochures, or links to their website or demo videos.
Use Creative Filters
Build-in filters for your exhibitors, for example, "Hot & New Products" or even "Swag." Then require exhibitors to pay a small fee to be included in the filter.
Provide Proximity Alerts
Sell location-relevant messages to your exhibitors by allowing them to message attendees when the attendee is in the proximity of a sponsor's booth.
Offer Push Notifications
Notifications can be set-up for your sponsors to send an alert to attendees on specific dates and times. The alerts display on the home page of your conference app.
Personalize through Segmentation
Your home screen can be a revenue generator for your event app. Use segmentation to control which banners and or push notifications appear for specific attendees.
Benchmark Traffic
Use attendee traffic insights to benchmark your event. Capitalize that information by charging a premium to sponsors who want to be where attendees congregate.
Give Your Exhibitors A Solution They Need
Offer (and charge) your exhibitors for white-label access to the content they need. Many larger exhibitors populate their own specialized apps with your event content in order for their employees to use in conjunction with their company-specific needs.
ATC 2015 Sponsor Success
The ATC event app sponsorship generated $50,000 in revenue for the association. The sponsor imagery was displayed at app startup and received about 120,000 views within the short time of the conference. At 3 seconds display, the sponsor branding was seen for 99 hours. In addition, ATC 2015 went paperless in 2015 and saved $33,000. Net benefit equals $83,000! In 2016, the organization may plan to offer ScanHunt® gamification to increase event engagement between attendees and exhibitors and to offer additional sponsorship options.
ACCME Compliance
There are many ways the different sponsorship options can be integrated into the conference app to generate revenue while remaining in compliance. Review the ACCME Standards for Commercial Support to determine how sections 4.3 and 4.4 would apply to your event app and which sponsorship options you may take advantage of to generate revenue.
Event App Sponsorship Revenue Calculator
Simply enter how many sponsors you could attract for each type of sponsorship and the value at which you would be selling the opportunity. Your total potential revenue from your event app is calculated below.
Main Event App Sponsor

$

Interactive Banner Ads

$

Timed Ads on Home

$

Featured Exhibitors

$
$

Sponsor Push Notification

$

Exhibitors with Media Links

$
Calculate Savings
$
Total Potential Revenue $