The only scientific search engine in a conference app
The EventPilot Conference App is designed with complex programs in mind. It has managed events with over 30,000 sessions and presentations, over 50,000 authors, and thousands of exhibitors.
Receiving relevant search results quickly from these massive data sets is critical for a successful attendee experience at medical meetings and scientific conferences. Easy access to the latest scientific research could be the key to the next discovery of the century.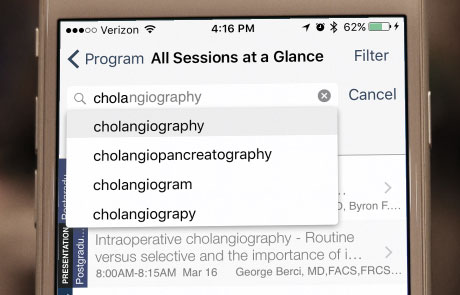 "Just try searching for cholangiopancreatography on a mobile device! It's effortless in EventPilot conference apps. The search engine is fantastic."
Jason Levine
Vice President, BSC Management
The smartest program search in the industry can even learn your jargon
Train the search engine so that search terms with the same meaning generate the same results. Provide the search terms used in your industry or specialty so that your attendees can find what they need no matter what term they use. The search works in both the EventPilot online planner and the EventPilot mobile conference app.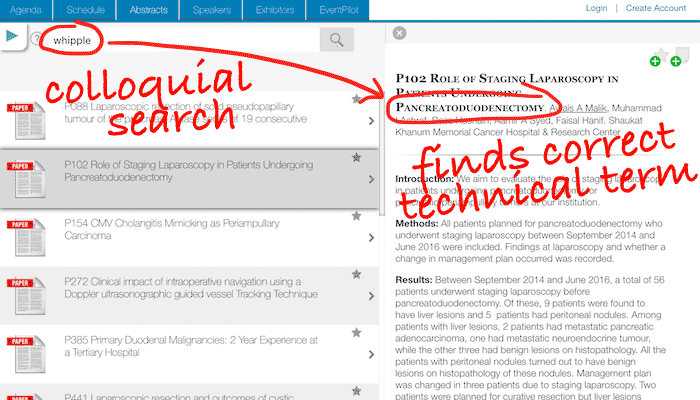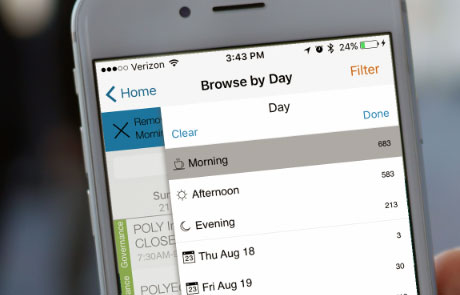 "For our medical meeting, the best functionality is the scientific search. People can easily find what they need out of over 1,500 presentations. And we can save money by including all abstracts digitally."
Dana Edwards
Manager, Information Technology
American Academy of Optometry (AAO)
Why do you need a scientific search engine?
What makes the EventPilot scientific search engine unique?
The EventPilot scientific search engine helps meeting planners improve access to the event content. It increases the success rate of finding relevant results up to 44% which in turn provides a better attendee experience.
High-speed offline performance

Autocomplete suggestions

Diacritic search

Associative search
Synonym Search

Analogue Search

Boolean exclusion

Spell Correction & Variations
Global & content specific

Smart filter integration

Prioritized results

Indoor expo map search
Wow your attendees with searchable poster content
Make sure your attendees can easily find what they're looking for by providing searchable posters and handouts on the mobile conference app. Text content within PDFs uploaded by speakers to the EventPilot conference app platform are automatically included in the global search function. You can also create a specific tab that lists all ePosters or handouts, allowing attendees to search for content within those PDFs specifically.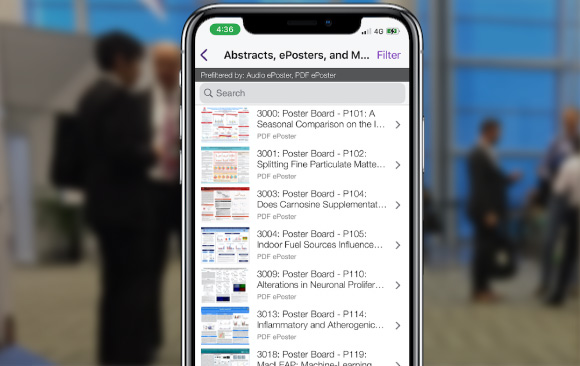 Mobile Conference App Search Feature FAQ