The best scientific meeting app is now even better
Introducing: EventPilot Scientific Search Engine
"The search engine is fantastic and is one more reason EventPilot is the best meeting app for medical and scientific conferences."
Jason Levine, Vice President, BSC Management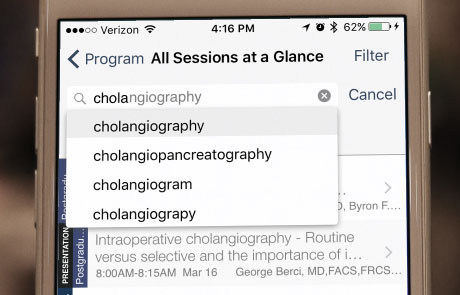 "Medical meetings are highly specialized and need event technology that helps attendees find scientific terms - just try searching for cholangiopancreatography on a mobile device! It's effortless and quick in EventPilot conference apps. The search engine is fantastic and is one more reason EventPilot is the best meeting app for medical and scientific conferences."
Jason Levine Vice President, BSC Management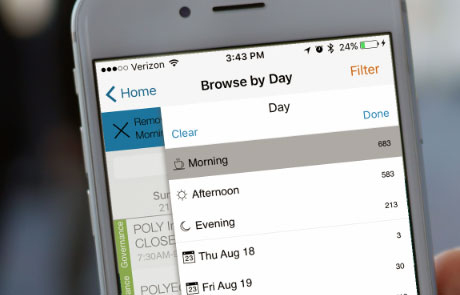 "For our medical meeting, the best functionality is the scientific search in EventPilot. People can easily find what they need out of over 1,500 presentations. And we can save money by including all abstracts digitally."
Dana Edwards, Manager, Information Technology, American Academy of Optometry (AAO)
The smartest search in the industry can even learn your jargon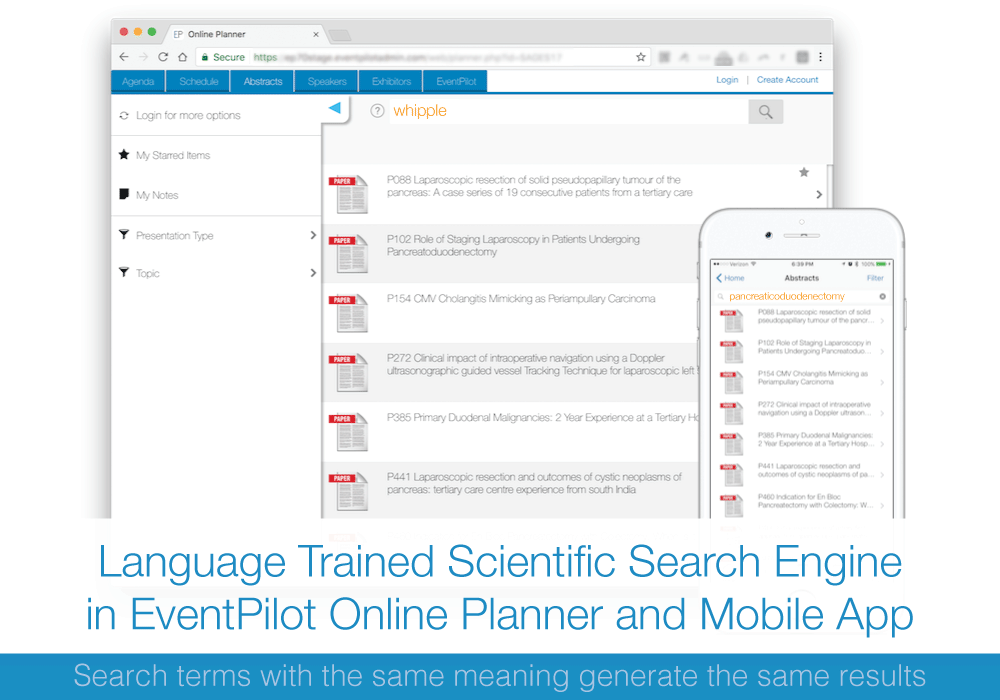 Medical Procedures
whipple = Pancreaticoduodenectomy
Chemical Names
H2O = Water
Drugs and Brands
Motrin = Ibuprofen
Regional Variations
Coeliac = Celiac
Why Do You Need a Scientific Search Engine?
Attendees Love EventPilot Scientific Meeting Apps
Atd app is 🔥Plan sessions, locate them, take notes, e-mail notes etc extremely useful 🙌🏾 Well done team @atd #ATD2018

— Quinton Douman (@QueDouman) May 6, 2018
All big conferences should have an app to make your own schedule. I feel so organized. #SfN18

— Lauryn Burleigh (@L_Burleigh) November 6, 2018
Congrats #APHA2018 for the Best Conference App of 2018. It had schedules, nearby presentations, and hella sexy apps. Give it up for @PublicHealth

— KateSwartzMPH (@kate_mph) November 14, 2018
Just a quick shout out for the #ASSA2018 app. Attending conferences is so much easier with it. pic.twitter.com/lgTb6a45KG

— Ebehi (@Ebehi_Iyoha) January 6, 2018
The best conference app I've ever seen! Packed full of accessible info from #DDW16 https://t.co/UIg1wHnSKi #RDUK #rd2b

— Emma Carder (@EmmaCarderRD) September 21, 2016
Special thanks to the rockstars who created and keep updating the #sblaar16 app! #tyvm

— Rabbi Susan Lippe (@SusanLippe) November 20, 2016
Shout out to the incredible #TAGC16 app @GeneticsGSA

— Chris Leonard (@leonardchris) July 17, 2016
What Makes the EventPilot Scientific Search Engine Unique?
EventPilot is designed for the largest medical and scientific programs with over 10,000 sessions and presentations, over 50,000 authors, and thousands of exhibitors. Receiving relevant search results quickly from these massive data sets is critical for a successful attendee experience. Easy access to the latest scientific research could be the key to the next discovery of the century. The EventPilot Scientific Search Engine helps meeting planners improve access to the event content. It increases the success rate of finding relevant results up to 44%!
High-speed offline performance

Autocomplete suggestions

Diacritic search

Associative search
Synonym Search

Analogue Search

Boolean exclusion

Spell Correction & Variations
Global & content specific

Smart filter integration

Prioritized results

Indoor expo map search
Request a free demo of the EventPilot Scientific Search Engine
Schedule a private demo with us to see how a true scientific search engine makes a difference to finding content in your event program.