Automate your virtual and hybrid meetings with EventPilotⓇ Simulive
Stream pre-recorded videos in sync with your session time
During 2020, we introduced a large number of new features to support virtual meetings. Now, you can benefit from yet another new release that makes your life even easier when planning virtual or hybrid meetings. Introducing: Simulive!
Instead of trying to coordinate live Zoom webinars, take advantage of EventPilot Simulive. Your speakers simply upload a video of their presentation in advance and EventPilot will play the videos at the scheduled session time. All viewers are synced to watch the same video at the same time. Users joining for example 10 minutes late will be jumped to the 10 minute point in the video. Learn more about EventPilot Simulive for Hybrid Meetings or EventPilot Simulive for Virtual Events. Contact us to access a simulive demo project so you can experience a simulive session yourself.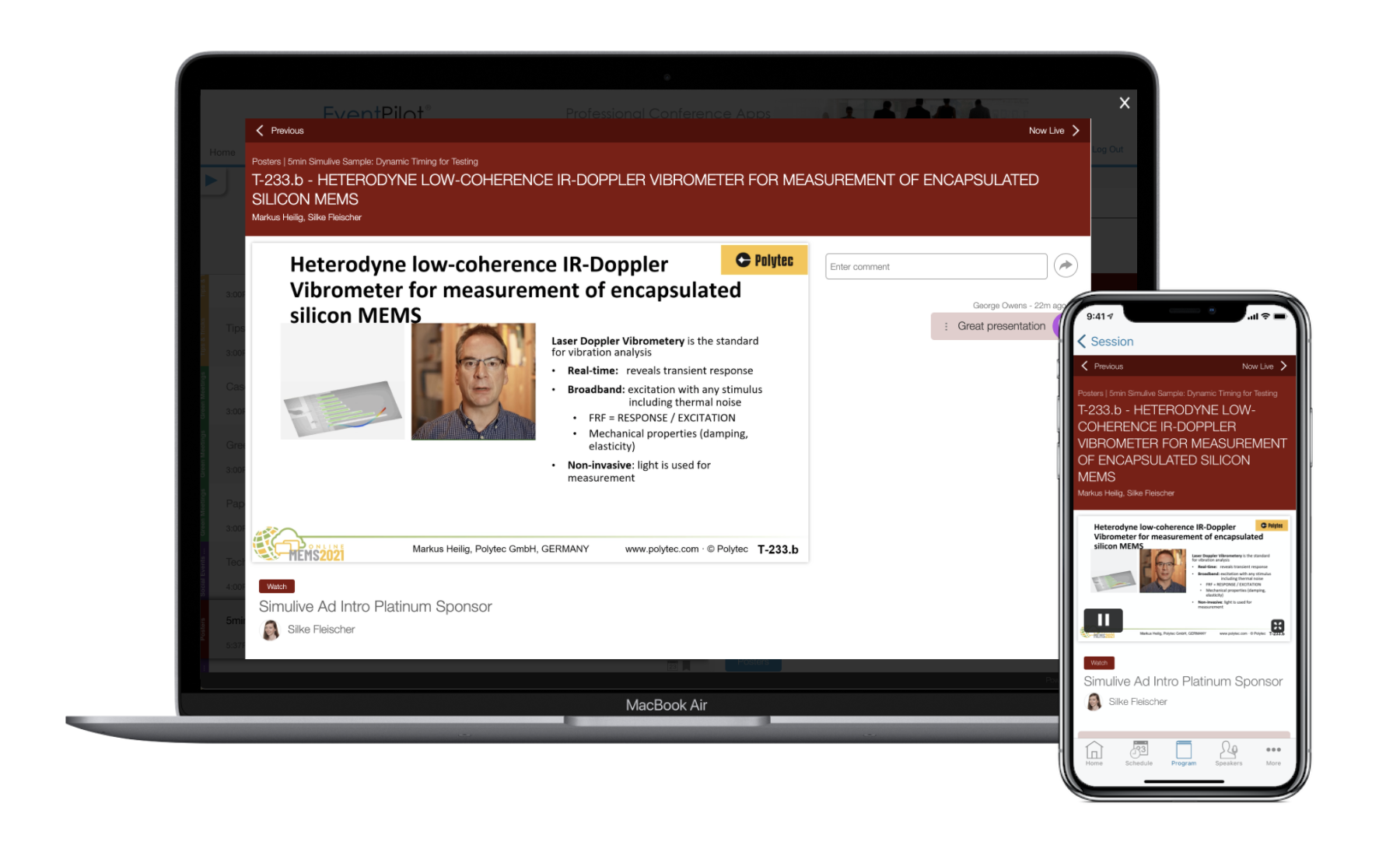 Answer questions during sessions
Because the main session chat displays in the simulive playback window, attendees can submit questions while watching the streaming simulive videos. Your speakers can answer those questions via the chat directly during the session time or after. The chat is available as long as you continue hosting the project.
Finish each session with a live Q&A
Take advantage from the automated Zoom integration and add a live Q&A via a Zoom Meeting at the end of each simulive session. Speakers and attendees join directly after all the videos in a session have finished playing.
Include sponsor ads
Like speakers, invite your sponsors to upload advertisement videos that play at the beginning of a session. Set the presentation time to 1 minute or longer for their maximum video length.
Support desktop and mobile
Your attendees can be on the platform of their choice. This means they can watch simulive sessions either from their computer or from a mobile device on the go.
Review, replace, or archive uploaded videos
Host all videos in your own Vimeo account
Link EventPilot to your own Vimeo Premium account. As a result, all speaker uploaded videos as well as all Zoom recordings (if you use the Zoom integration) are automatically uploaded to your own account and hosted from there. This allows you to view any videos early, replace videos manually, which can be helpful for Zoom recordings when a speaker asks you to edit something out, or simply store all videos for archiving purposes.
With this method, you could also use EventPilot to collect videos from speakers that you may use in your own live Zoom events. So EventPilot acts as your upload method to gather videos that you then use for your own purposes, and not link up with your EventPilot program.
Benefits of Vimeo account integration:
Preview any uploaded videos
Event organizer video download
Video file replacements without the Speaker Portal
Video playback from your own website
Automatic Zoom recording upload
Archive/storage/playback past EventPilot hosting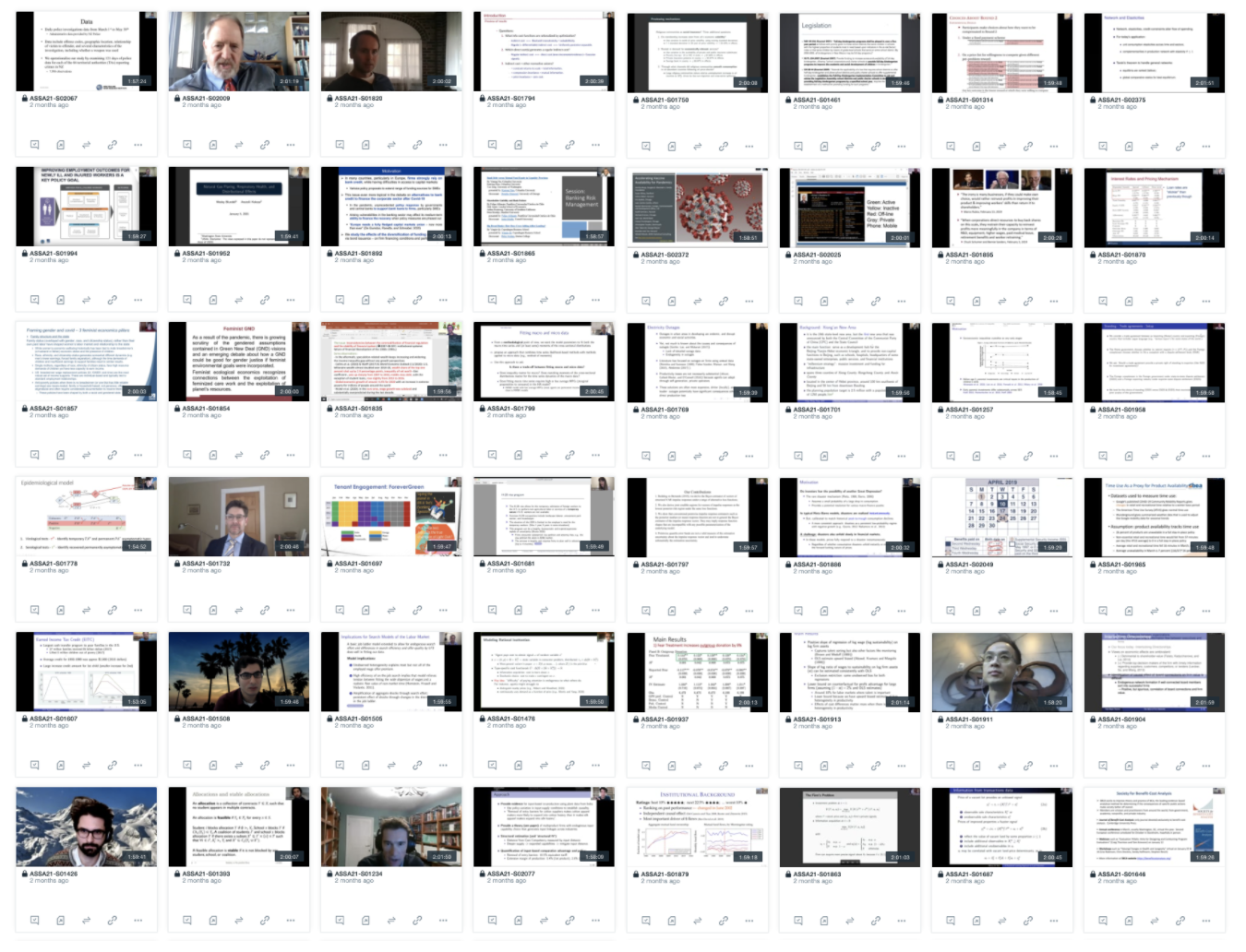 Engage attendees and exhibitors
Real-time discussion chats display in each exhibitor view
Attendees can now post questions in exhibitor detail views with the built-in exhibitor chat.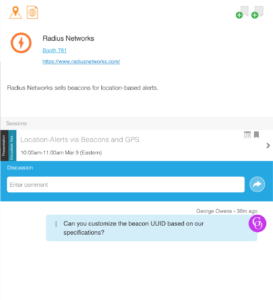 Additional Enhancements
Community chats preloaded
Each new project is now generated with a set of community chats including Introduce Yourself and Job Board. You can customize the community chat page, add a sponsor logo, and customize the individual chats too.
Automatic Event Graphics
If you don't have access to a graphic designer, EventPilot generates a set of graphics using your event name you enter in the CMS, the event color, and your event dates/location.

Zoom host link via CMS
If you are using the Zoom automation, the CMS Virtual Sessions will now provide you with a link for the host to start the webinar. No need for the host to log into your Zoom account. The link becomes available based on your buffer settings (how early you want speakers to start joining). The host link is also included in the virtual session report spreadsheet file you can download directly from the Virtual Sessions page.
Custom Icons inside Buttons
You can upload your own custom icons into the home screen or custom view builder buttons. Upload a white icon with transparent background to display inside your buttons.
Availability
All features listed are now available. Some features may require authentication integration or an integration service fee.
Do you have new feature ideas or want to see this release in action? Please contact your Client Relationship Manager at ATIV.