Advanced indoor routing for conferences and events
Session rooms, poster boards, exhibitor booths, registration desk, … your attendees, speakers, and staff may have to navigate large convention centers or multiple different venues. You can make this easy for them with the new inside routing technology in EventPilot conference apps: RouteInside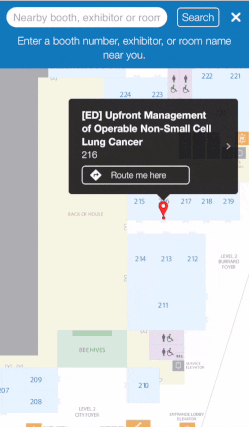 Indoor Wayfinding for Your Event App*
Navigate Events Offline
RouteInside guides your attendees step by step from one room to another. No GPS, bluetooth, location services, or WiFi necessary – it works completely offline within a venue.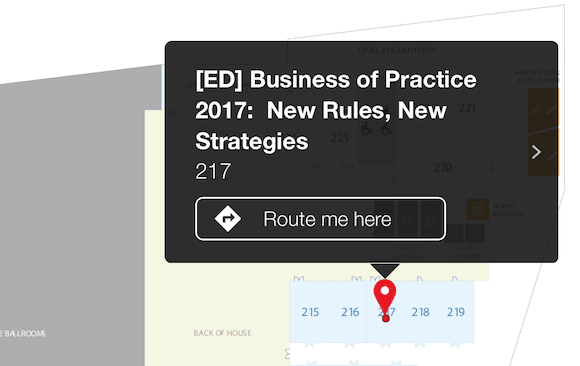 Route Across Floors
RouteInside displays the closest elevators, stairs, or escalators to help your attendees find the shortest route to their destination.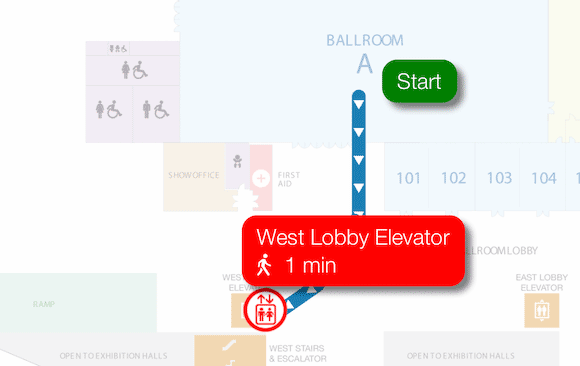 Travel Between Venues
Finding your way from the convention center to a reception at a hotel is a breeze. RouteInside links out to map apps that provide walking, driving, ride sharing, or public transportation travel options to quickly arrive at the address of another venue.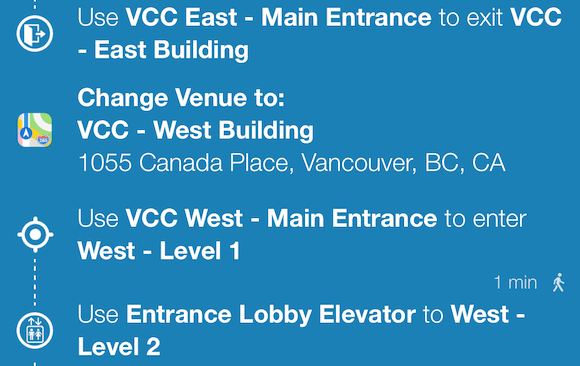 Display Travel Time
Set expectations for the required walking time going from one session to the next. RouteInside displays an estimated walking time for your attendees.
Additional Enhancements
Build Collapsible Views
Including content that is organized into collapsible sections and is available offline is ideal for general information, hotels, shuttle info, etc. You can build these interactive views using simple point and click directly in the CMS.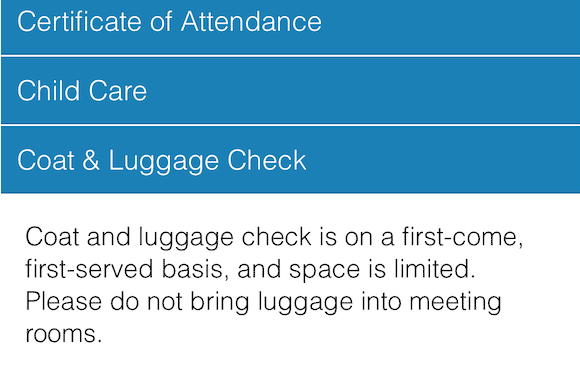 Make Selected Pages Searchable
Choose which custom views you'd like to keep hidden and which ones to include in EventPilot's Scientific Search Engine. This works well in combination with targeted content, where you can make certain custom views only visible to specific groups of users.
Link to Specific Sessions in the Itinerary Planner*
If you have purchased the Itinerary Planner and want to highlight specific sessions in your marketing, you can now link to individual session pages within the planner.
Availability
All features listed become available in your next implementation and purchased modules. Setup fees apply for RouteInside and additional set up time may be required. Please review Best practices for floor plan and map images. Features marked with * require the associated module. If you have purchased the module (e.g. Itinerary Planner), the new feature will become automatically available for you. Enterprise multi-event apps will be upgraded based on your upcoming event schedule.
Do you have new feature ideas or want to see this release in action? Please contact your Client Relationship Manager at ATIV.