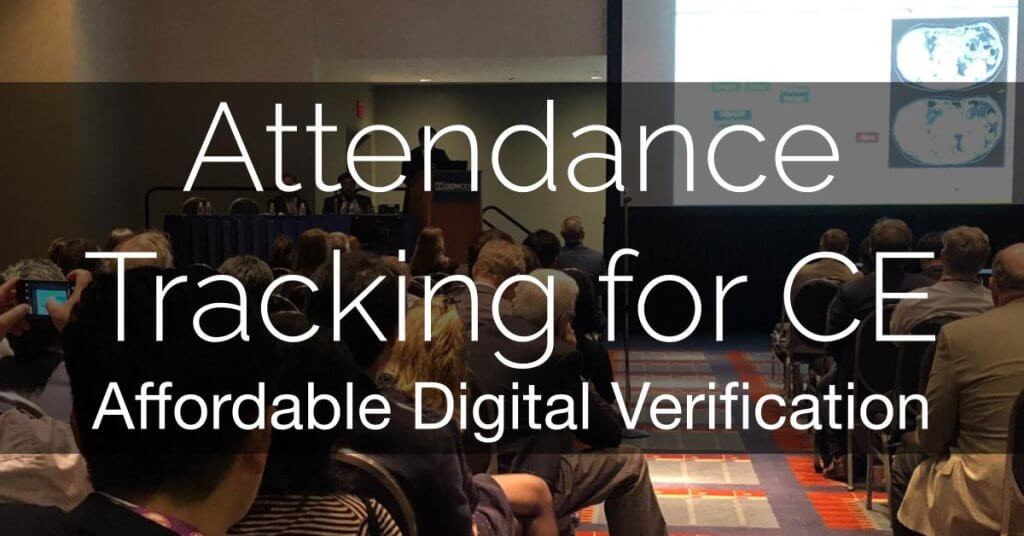 Show Proof: Attendance Tracking for Continuing Education (CE) Credit
While most Continuing Medical Education (CME) credit claiming at medical meetings is based on self-reporting, some specialty boards require proof of physical attendance for accredited events. The same could be true for Continuing Legal Education (CLE) for legal professionals, Continuing Professional Education (CPE) for certified public accountants (CPAs), certain Continuing Education Units (CEUs) for educators, etc. Physical attendance tracking for these kind of credit units needs to provide accurate and reliable data on who attended the session, when they arrived and left, and how long they stayed. This could be accomplished with modern RFID technology for continuing education (CE) session tracking, however, such event tech implementations can quickly become cost-prohibitive as they not only require RFID tags in the badges or wristbands, but numerous RFID readers positioned throughout the venue. Attendees may also not be too keen on facial recognition or other biometric setups due to privacy concerns.
Instead, you could take advantage of a simple and cost-effective solution built right into your mobile event app: attendance scanning in the EventPilot Conference app. Let's see how it works. 
Fully Integrated into the Mobile Conference App
With the professional EventPilot mobile conference app, you can skip equipping your event staff with special scanning devices. Your onsite staff simply uses the same mobile meeting app as your attendees on their devices. They log in the same way your attendees do and then navigate to the session for which they want to scan attendees for CE tracking. The credit sessions display a scanning button.
Visible to Staff Only
Each credit session detail view gives staff access to tracking. The tracking button only displays to certain predefined sets of users. For example, users of type "staff" could be granted the ability to launch the attendance tracking badge scanner from within the individual session detail view. The button opens a special integrated badge scanner that not only captures the attendee's name and badge ID, but also tracks the scan time-stamp and the staff member name who scanned the badge. 
Digital Attendance Verification
The built-in QR code reader can rapidly scan and decode the badge QR code for digital attendance verification. Your staff can quickly manage the conference attendance check-in process for all the attendees that want to claim their CE. Depending on your requirements, staff can not only scan attendees when they enter a session, but also when they exit a session and thereby track the session check-out. This allows you to track attendance duration in case your board requires a minimum presence per credit session. 
Privacy Control
If you were to use RFID tracking, individual readers would be placed all around the venue that continuously track all attendees, unless they specifically opted out of tracking in advance. This setup could raise privacy and security concerns, as attendees may not want to have all their movements captured.
Instead, at-the-door attendance scanning lets attendees choose when and where to be tracked – if they do not want credit for that session, they don't have to get scanned in. 
Reporting
Access analytics 24/7 via the EventPilot Conference App Builder. A scanning detail report provides the badge ID, attendee's full name, and the date and time attendees were scanned. Every attendee badge scan is linked with the session ID and even includes the name of the person who scanned at the session entrance.
The analytics dashboard also helps you understand overall attendance scanning through the agenda report. This report shows the total count of unique attendees scanned for a specific session. The reports are downloadable as CSV files which you can open in any spreadsheet program for further analysis. 
If digital attendance verification is necessary at your event, the EventPilot conference app already includes the required event technology for a simple and affordable implementation. Get in touch with us to discover how the built-in attendance tracking could can be tailored to your unique conference.