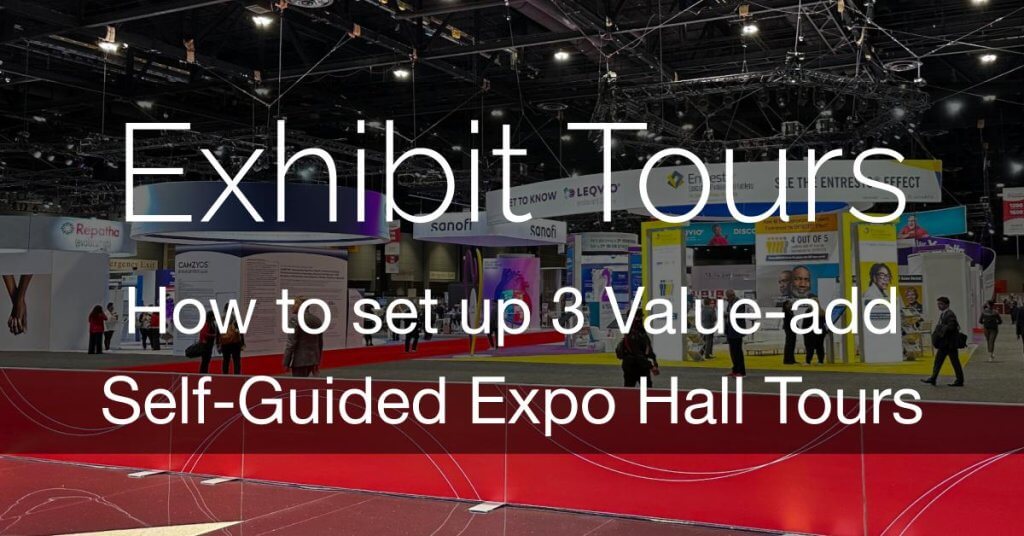 Innovate Your Expo Experience with Self-Guided Exhibit Hall Tours
The expo hall is an opportunity for conference attendees to learn about new products and services related to their industry or field. They can meet with vendors, see demonstrations, and gather information about the latest advancements in technology and innovation. However, when the expo is large and the event program is packed with great speakers, attendees have little time left to maximize their exhibit hall visit. 
Similar to the curated itineraries for event schedules, where you enable attendees to add the perfect complete itinerary with a single click, you can curate the expo visit and provide exhibit hall tours to visit a sub-set of prioritized exhibitors. As the meeting planner, you can collect all the details needed from your exhibitors to build out self-guided expo hall tours based on themes, topics, or service categories. 
Minimum experience guide: Products & Services Filters
Attendees visit the expo hall to find solutions to challenges they are facing in their work or industry. They can meet with vendors and ask specific questions to find solutions that meet their needs. The easiest self guided tours to set up are by products and services. The product and service type data is often already part of the booth information that is imported into the mobile conference app. Attendees simply select a product or service category and can then easily visit this targeted list of exhibitors. While there shouldn't be any additional work on your side to make these available, you could offer your attendees interesting curated themed lists.
3 Key Self-Guided Exhibit Hall Tours
Just like curated itineraries for themed session schedules, you may want to work with industry experts to build the ideal curated lists of exhibitors per topic or theme.
How to set up a self-guided expo hall tour
The EventPilot conference app simplifies the process of setting up self-guided exhibit hall tours via pre-filtered lists based on keywords in the data sets. You just need to know which exhibitors you want to feature in which tour. Attendees can access these curated exhibitor lists sorted by booth number, providing a straightforward and organized route through your expo hall. This makes navigating the different vendors effortless and ensures that attendees don't miss any important exhibits.
How many exhibitors should be listed per exhibit hall tour?
When building self-guided expo hall tours, keep the number of booths to visit small so that attendees do not feel overwhelmed and can spend sufficient time to network with the vendor, watch a demo, or ask questions. With the average booth visit between 5 and 15 minutes, attendees realistically would see three to four booths in one hour. What kind of time gaps do you build into your educational schedule for daily exhibit hall visits? Consider limiting the number of vendors to three to seven exhibitors per tour. If you have dozens of exhibitors launching new products, split the list into logically themed groups e.g. at a cardiology conference, you may have "What's new in Imaging" versus "What's new in Pharmaceuticals."
Can self-guided exhibit hall tours be used to generate revenue? 
Themed exhibit hall tours can effectively steer attendee traffic to a selected group of exhibitors, presenting a valuable opportunity for them and potentially generating some revenue through inclusion fees for you. However, you would want to prioritize the attendee experience and avoid causing disappointment. Imagine you excluded a vendor's significant product launch from your "What's New" tour and the attendee missed the opportunity to learn about it in person at your event. It's more important to create a positive attendee experience than to generate revenue from these tours.