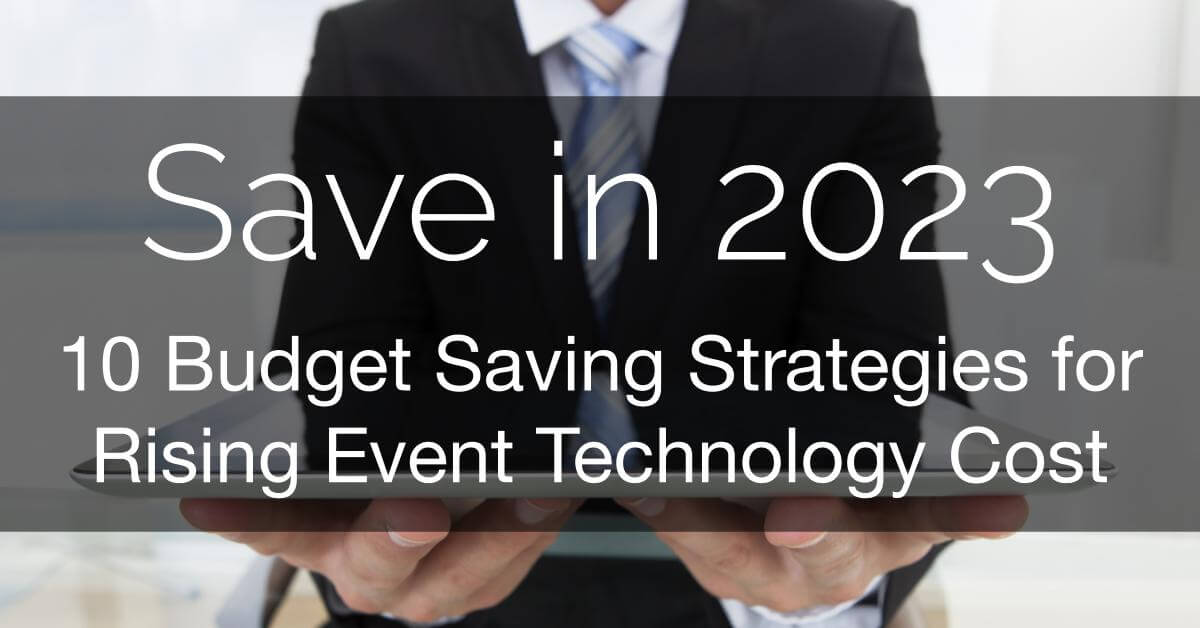 As a meeting professional, you know that conference tech can take a big chunk out of your event budget. From virtual platforms to mobile meeting apps, the cost of technology can quickly add up. Fortunately, there are ways to save on event tech without sacrificing quality or functionality.
1. Skip the print
With more and more attendees used to digital-only event programs, why not take advantage of this new trend and say goodbye to printing? Use a mobile meeting app like EventPilot, which starts at only $999 for small events, to push updates, send alerts, and include links to your daily news. A robust mobile conference app is as reliable as paper but a whole lot more interactive with search and filters, personal schedule building, or attendee networking. Not only will you save on printing and distribution costs, but you'll also be doing your part for the environment. Calculate your paper CO2 footprint.
2. Drop the Secondary Virtual Platform
Opt for a platform that can meet both your on-site and remote needs, like EventPilot. It combines an on-site native event app with an itinerary planner for remote or desktop viewing, and even has a Zoom API integration. All streaming and OnDemand content can easily be integrated and access controlled. Plus, it's a lot easier for your team to manage and less confusing for attendees to use.
3. Save on AV Costs
Consider offering low-cost remote viewing options like EventPilot Simulive or on-demand videos. EventPilot makes it easy for speakers to upload videos in advance and schedule them to match your on-site schedule. Your remote event attendees watch the same presentation at the same time your onsite attendees listen to the live speaker on stage. This increases your remote viewing offers without increasing your live streaming event budget.
4. Watch out for API Integrations
If all your vendors' databases need to be integrated, you may either face massive API implementation fees or hours of manual labor copying and pasting. Select platforms that already have existing integrations. For example, the EventPilot meeting platform offers a large number of integrations with a set of free default API connections. The integrations tend to be proven and are ready to be used. So if you use abstract management systems like Confex or ScholarOne, or registration systems like Maritz or CDS, you can avoid additional integration fees.
5. Work with Experts and the Right Tools
If you have specific requirements for your event, because it is for example a medical meeting with poster sessions and abstracts, invest in solutions that are designed for your type of event. Even if they may appear more expensive at first glance. A specialized solution that can effectively address your unique needs not only helps you sleep at night, but also keeps your attendees, board members, and sponsors happy. In the long run, working with a team of experts or utilizing a platform that is specifically designed to meet your unique requirements can save you time and money. 
6. Maximize the Functionality in Your Existing Event Technology
Before you start looking for new technology, make sure you're getting the most out of what you already have. Review the mobile meeting app features and functionality of your current systems, and see if there are any you haven't been utilizing. Often, there's more than meets the eye with the technology you already have, and it's a lot cheaper to make better use of it than to buy something new.
7. Integrate ePosters
Save on complexity and confusion by using an integrated ePoster platform like EventPilot. It includes a speaker portal where presenters can upload their poster PDF files, add an audio summary to create a virtual poster, or upload a PDF of their presentation slides as handouts. Because the speaker portal is fully integrated into the mobile event app and online itinerary planner, your attendees benefit from an unmatched experience as the platform search can pick up on content within the uploaded PDF. This makes it extremely easy for attendees to access and navigate, and saves you money from paying for yet another platform.
8. Eliminate Complexity by Reducing the Number of Platforms in Use
Another way to save on event technology is to simplify your setup. The more platforms you use, the more complicated and expensive it can be. Try to streamline your systems and use as few platforms as possible. Not only will it save money, but it will also make things easier for attendees and staff.
9. Use Free Lead Retrieval
Save with a free lead retrieval app, like BadgeScanner. If lead retrieval isn't included in your registration system, BadgeScanner can improve the exhibitor experience without breaking the bank. Plus, it's already built into the EventPilot meeting platform. Follow these instructions for the QR codes and your exhibitors are ready to scan badges.
10. Take Advantage of Time Saving Tech
Everyone has to accomplish more but with fewer resources. Meeting planning is a complex undertaking and project management tools like Asana can help you save money by increasing efficiency. Manage time and resources, collaborate with team members, set deadlines, and assign tasks not only to team members but also to vendors. Benefit from cloud software like Google docs with built-in collaboration and online editing. This helps you avoid sending or editing actual files and streamline your processes by using document links within your project management tasks. 
Start Smart with your Event Budget into 2023
In a nutshell, to stay within your event budget and cut your costs without sacrificing quality or functionality, consider going paperless, maximizing the functionality available in your existing event technology, and eliminating complexity by reducing the number of platforms in use. Leverage free lead retrieval apps, choose one single platform that can meet both on-site and remote needs, minimize AV costs with Simulive and OnDemand, and improve the experience with an integrated ePoster platform.