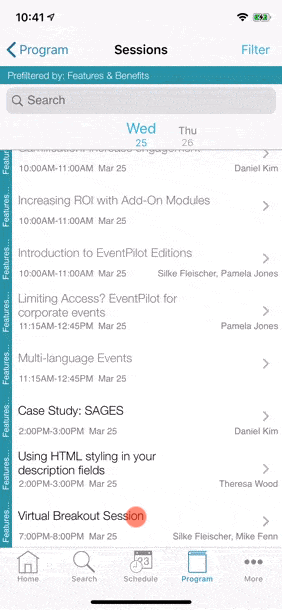 Our team is working hard to help associations transition their live events to virtual meetings rapidly. Therefore, you don't need to cancel your conference. Your meeting app, combined with a fully-featured web and desktop version, can act as your virtual events hub. The EventPilot® conference app already incorporates in one location all your session content, speaker information, abstracts, sponsors, etcAll your session content, speaker information, abstracts, sponsors, etc. Furthermore, you can control access to your virtual content via the authentication included in your app.
Using the app, add the new virtual components:
live sessions
streaming sessions or webinars
pre-recorded videos
ePosters and vPosters
and more
If you have existing web conferencing tools and technologies at your organization, you can integrate those into EventPilot. This allows you to rapidly transition to virtual events. Our team is here to help you set up and add any new links to sessions, posters, speakers, or exhibitors. To keep your sponsorships going, we offer a way for exhibitors to add links to their directory entry. Now, your vendors have a quick way to enhance their profile and include even their own virtual meeting room link.
If you have a Zoom subscription, your life becomes even easier as all your sessions are converted to Zoom Meetings or Zoom Webinars with the push of a button. Take a look at the animation, which shows how easy it is for a logged-in user to access and join a virtual session directly from the mobile conference app.
For more tips on using your event app throughout this crisis, check out our LinkedIn article.
Before considering canceling or postponing your event, get in touch with us to learn about the different options to transition to virtual events.