EventPilot's new features save your attendees time to navigate your ocean of content. Our developers have worked hard to improve your attendee experience and also to give #EventProfs new tools to generate revenue plus save time during app creation.
"In the scientific meetings industry, there is nothing more important than researchers connecting with the right content and the right people to enable the next scientific breakthrough. EventPilot helps them do that."
Silke Fleischer
CEO and founder, ATIV Software
Boost Session Discovery
Related Sessions
If you have thousands of presentations and abstracts in your medical or scientific meeting program, you need an advanced way to link related content. This is especially critical if sessions are assigned to tracks or specialties some users may normally disregard. The EventPilot meeting app automatically finds and presents all related sessions to your users. This helps your attendees discover new presentations they may otherwise not have found or considered.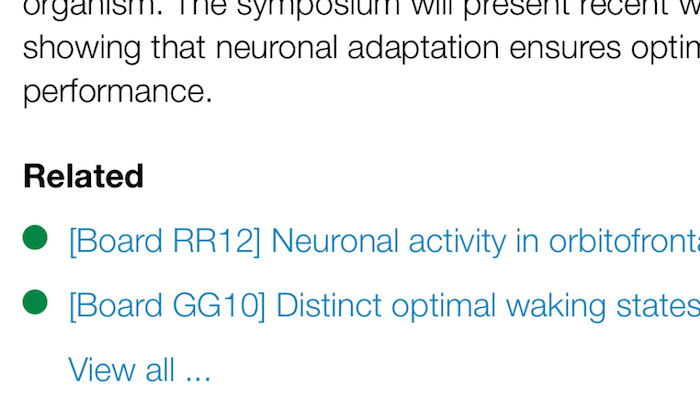 Make the Most of Registration Hours
Auto-Location Alerts
"Can I pick up my badge now?" is a question the EventPilot meeting app helps your attendees answer. Upon arrival at the airport, they receive a notification about your registration hours and location to help them decide when to pick up their badge / visit registration. The smart alert lets them know if registration is still open and how to get to the venue.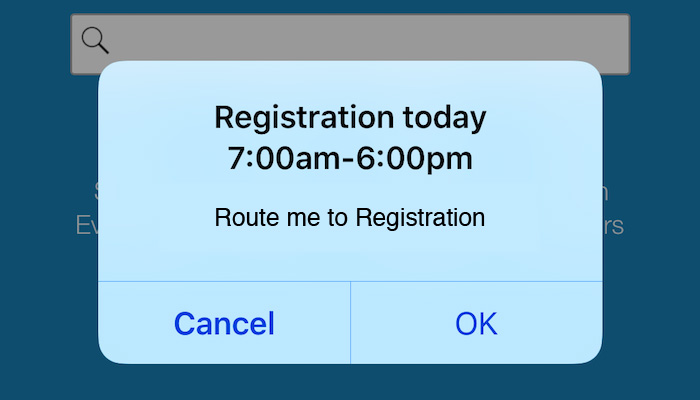 Uncover What's Missing
Search Analytics
Are your attendees searching for a topic you are not offering? Or a speaker they expect but you don't have? Your EventPilot Insights Dashboard reveals key terms your users are searching for. Use the data to add information, update your program, train the search engine, or plan future meetings.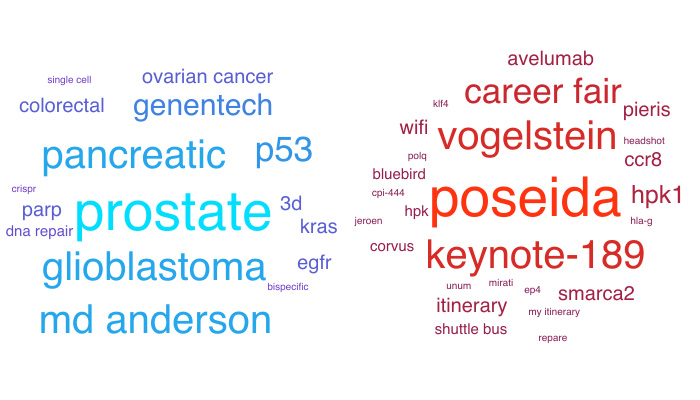 Control the Activity Feed
Moderation
EventPilot gives you full control over your social media feed in your app. This includes Twitter messages, photos shared by attendees, and comments submitted during sessions. You can delete spam, remove inappropriate comments or tweets, or block users.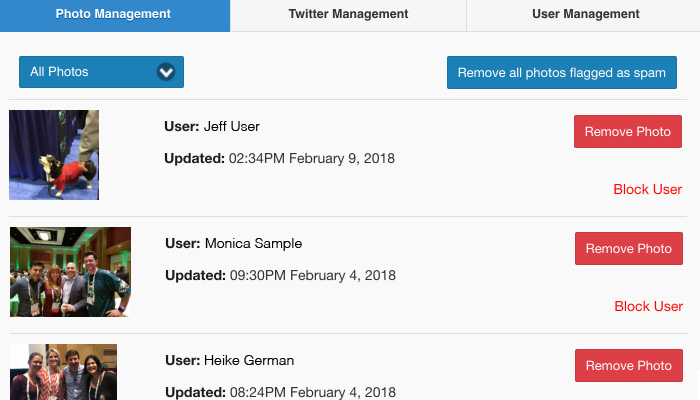 Improve Floor Plan Display
MultiMap Venues
Is your event so large that it is held at different venues that each have multiple floor plans? Improve the attendee experience by assigning floor plan images in venues. This grouping makes it easier to navigate your floor plans.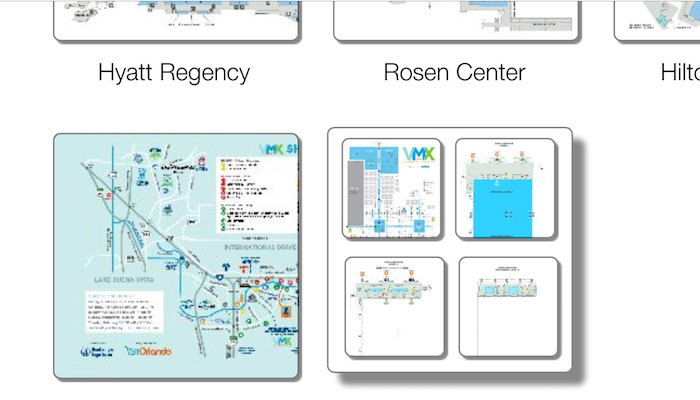 Increase Revenue
Lead Retrieval
Generate revenue by selling lead retrieval directly to your exhibitors. Vendors use their own device to scan badges and add notes – all offline. The lead list export is conveniently available via the app. Contact us for further options.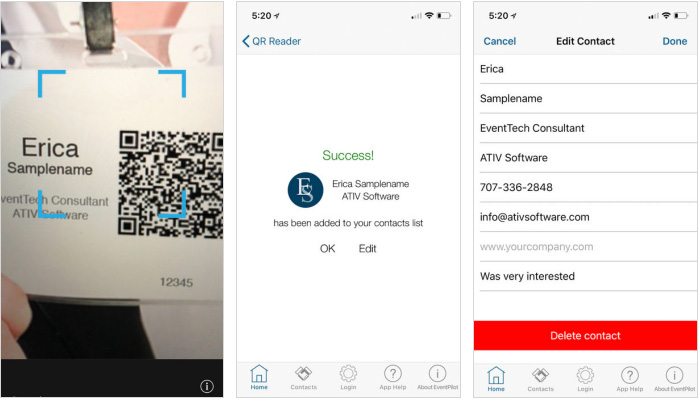 Simplify Contact Sharing
Badge Scanning
One of the main reasons for attending a conference is the opportunity to make new connections. How do you keep track of who you've met if they ran out of business cards? Your EventPilot meeting app can be configured to read the QR code on your badges to collect digital business cards.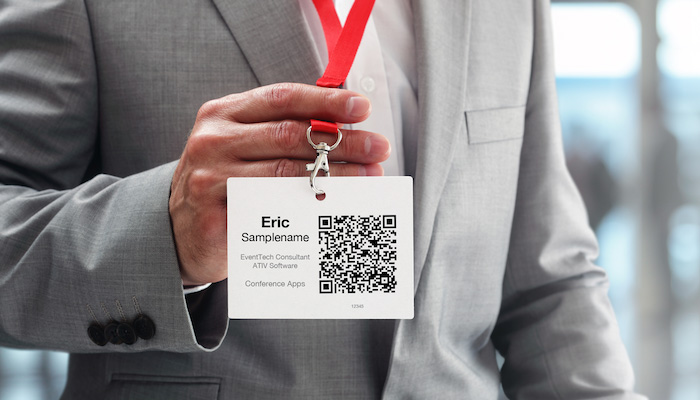 Enhance Slide Sharing*
Slide PDF
Downloadable slides PDFs help users increase retention. Using the Speaker Portal, your presenters upload the PDF themselves.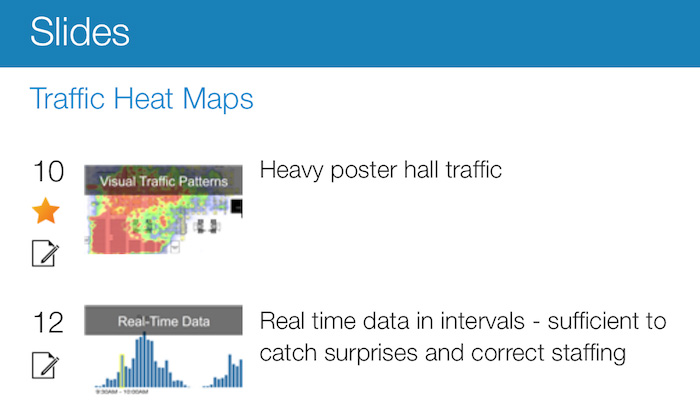 Emphasize Content
Format Descriptions
When editing description fields using the CMS, you can now use a handy WYSIWYG editor with options to add bolded or italicized text. Basic HTML formatting can also be applied for data import sources (please check with your CRM, what formatting options are supported).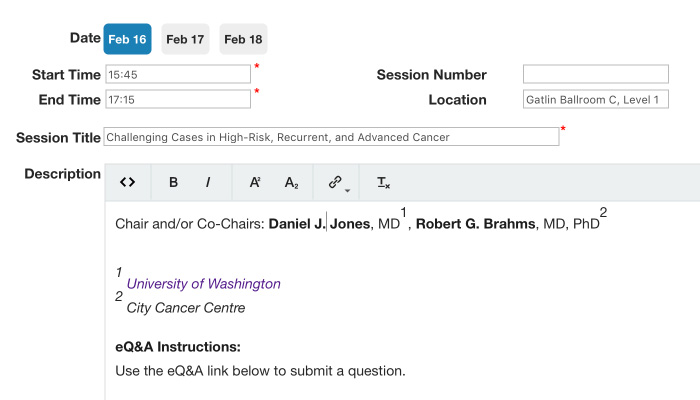 Additional Enhancements
Fine Tune Notifications with Session Alerts
Session specific notifications are only relevant to users who are planning to attend that particular session. With the new release, you can now create notifications for specific sessions. This limits alerts to just those attendees with that session on their schedule.
Add Personal Meetings via Online Scientific Planner*
Attendees can further control their personal calendar by adding personal meetings directly via the Online Scientific Planner.
Save Time with a variety of CMS Improvements
The team has implemented many of your requests that will help you save time. These include SSO-based auto-login to your web pages, streamlined direct file upload, improvements for import data processing, performance enhancements for data publishing, and more.
Availability
All features listed are included in your next implementation / purchased modules. Features marked with * require the associated module. If you have purchased the module (e.g. Online Planner), the new feature will become automatically available for you. Enterprise multi-event apps will be upgraded based on your upcoming event schedule.
Do you have new feature ideas or want to see this release in action? Please contact your Client Relationship Manager at ATIV.