These documents from ATIV Software explore topics around mobile conference apps in the event industry. The white papers are intended to provide guidance for event professionals and meeting planners.
12 Tips to Increase App Adoption
Increase mobile conference app use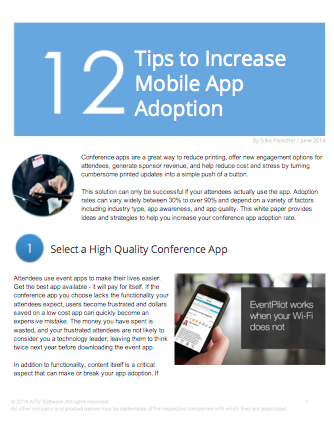 Simply offering an event app does not guarantee attendees will actually install it. Use the tips provided in this paper to market and promote your conference app in order to maximize adoption among your attendees. Higher adoption allows you to further reduce printing and increase the meeting app value for your sponsors.
Complete the form below to download the paper.
Embracing Event Apps
Choosing and implementing conference apps successfully
This white paper provides event and meeting professionals with the essentials to understand the differences between native and web apps, required and desired feature sets, cost ranges, estimated development and implementation timelines, success factors in vendor selection as well as marketing tips.

Note: With the average U.S. office worker going through 10,000 pages of copy paper each year, we are committed to paperless events and sustainable workplaces - our white papers are set up to encourage online reading and help reduce paper waste. Printing is disabled.