Don't just take our word for it.
Hear why our clients choose ATIV as their #1 partner for their mobile conference app solution!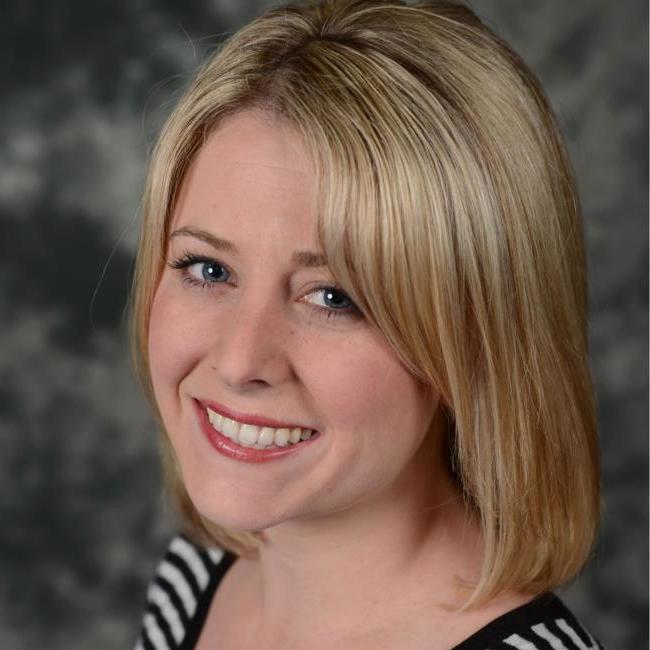 When we realized EventPilot works with our abstract and also our registration vendor, it was a no brainer.
Caitlin Dougherty, CMP, Meeting Manager, World Transplant Congress (WTC)
ATIV is the best. Our attendees commented in the 12 years of this conference, this mobile conference app has been our best improvement!
Caitlin Mariano, Meeting Coordinator, National Association of Professional Organizers (NAPO)
EventPilot was the best conference app we found for complex programs like ours. It's extremely fast to use despite our massive data sets and the app runs offline!
Marian Nardozzi, Pittcon
EventPilot makes navigating our complex scientific program easy - you can even perform Boolean search through all of our abstracts offline.
Yimang Chen, Director of IT, American Society of Human Genetics (ASHG)
The EventPilot app made the Convention program easy to navigate, creating a great attendee experience.
Nathalie Rothert, Director of Meetings, Association for Psychological Science (APS)
Consistent feedback we received was, BEST. MEETING. APP. EVER.
Jason Levine, VP, Information Technology, BSC Management Inc.
The EventPilot team expertly orchestrated the creation of our meeting app.
Tim Gregory, VP, Heart Rhythm Society (HRS)
Conference Attendees Love the EventPilot Meeting Apps
Giving GP Strategies kudos for creating and sponsoring our @atd app - best conference app I have ever used! @the_psow #ATD2018 pic.twitter.com/1tTdakLpiN

— Pamela Eyring (@pamelaeyring) May 6, 2018
Just a quick shout out for the #ASSA2018 app. Attending conferences is so much easier with it. pic.twitter.com/lgTb6a45KG

— Ebehi (@Ebehi_Iyoha) January 6, 2018
Congrats #APHA2018 for the Best Conference App of 2018. It had schedules, nearby presentations, and hella sexy apps. Give it up for @PublicHealth

— KateSwartzMPH (@kate_mph) November 14, 2018
@APHAAnnualMtg#APHA2017is a great app. You'll have access to presentations, socials, and interact with attendees!

— JR. (@_naturallynerdy) Nov 4, 2017
In 48h I'll be arriving in #Baltimore for my 17th ARVO. Impressed with the meeting app. Gets better every year. #ARVO2017

— MossLabUCL (@stephenemoss) May 4, 2017
Every conference should clone #ICRS2016's meeting app. It's the most functional and useful one I've seen yet.

— EcoEvoLab (@EcoEvoLab) June 21, 2016
Shout out to the incredible #TAGC16 app @GeneticsGSA

— Chris Leonard (@leonardchris) July 17, 2016
Great new features on the app this year too! Got my schedule set for #we16, see you there @SWEtalk ! https://t.co/xcj5hVHs5N

— Jonna Gerken (@JonnaGerken) October 15, 2016
Loving the #sblaar16 app by the way. Makes it real easy to roam these wide open halls.

— Casey Flynn (@IamCaseyFlynn) November 19, 2016
.@ACSNatlMtg The #ACSsanfran iPad app is beautiful. Fabulous schedule/calendar feature; no wifi required. #greatdesign #chemed #seeyousoon

— Melissa McAlexander (@MBMcAlexander) July 16, 2014
@Neurosci2016 The Neurosci16 planner app is really impressive, I loved it! Thank you! Going to miss #SfN16

— Sunny Siddiqi (@sunnysiddiqi) November 16, 2016
Special thanks to the rockstars who created and keep updating the #sblaar16 app! #tyvm

— Rabbi Susan Lippe (@SusanLippe) November 20, 2016
@ASRA_Society @ATIVSoftware meeting app is wonderful - all faculty slides are available to download as #PDF and #read #ASRAFall18 https://t.co/burNZNth5L

— Gary Schwartz MD, FASA (@garyschwartzmd) November 15, 2018
All big conferences should have an app to make your own schedule. I feel so organized. #SfN18

— Lauryn Burleigh (@L_Burleigh) November 6, 2018
Atd app is 🔥Plan sessions, locate them, take notes, e-mail notes etc extremely useful 🙌🏾 Well done team @atd #ATD2018

— Quinton Douman (@QueDouman) May 6, 2018
The best conference app I've ever seen! Packed full of accessible info from #DDW16 https://t.co/UIg1wHnSKi #RDUK #rd2b

— Emma Carder (@EmmaCarderRD) September 21, 2016
.@ASCO Your iplanner app rocks! Thank you. #ASCO16

— Rick Boulay,MD (@journeycancer) June 5, 2016
Looking forward to #TAGC16 starting Wednesday. @GeneticsGSA did a fantastic job with the meeting app.

— Gaurav Varshney (@varshneylab) July 12, 2016
MT This app is amazing! Full text abstracts, mark favorites, maps, etc. @ASH_hematology: Download #ASH13 app: https://t.co/0YA5LdEl4G

— Thomas W. LeBlanc (@tomleblancMD) December 7, 2013
Love the app! Thanks! The Peer Finder feature is pretty cool too #acsPhiladelphia https://t.co/7gffxrpu7x

— Sabrina Shahid (@SabrinaShahid94) July 28, 2016
@ATIVSoftware very nice tool. I appreciate the responsiveness of the company to the end-user and the quality of the product! Well done!

— David Woessner, PhD (@cancrx) December 10, 2014
Shout out to whoever developed the #ASHG16 app. It's awesome this year.

— Jeffrey Barrett (@jcbarret) October 20, 2016
Conference App Reviews in the Apple App Store

Best app ever for a medical conference! Well done ACC
Briancardo - Mar 14, 2015 | ACC.15

Used for a conference. Worked like a charm!
jackie casey - Dec 16, 2019

1st time user! Easy to navigate. Great way to keep schedule organized without all the paper.
M J - Nov 13, 2019

Thanks for make my meeting more comfortable, all the activities in the phone, including the conference slides
Dr ARC - Nov 15, 2019 | ASRA FALL 2019

This app was really well designed and easy to use. Probably the best conference program app I've seen
joe billy bob - Jan 8, 2015 | ASSA 2015

Well done! this is the best app I've ever seen for helping people navigate a conference
Believer in the idea - Jan 7, 2014 | ASSA 2014

Great meeting app!
ABurrows - Jan 8, 2013 | AAPD 2013

The only way to attend a conference! I was blown away by this app.
Teamdoc - May 11, 2012 | ATD Events
Event App Success Stories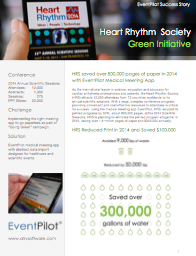 EventPilot enabled the Heart Rhythm Society to reduce the printed programs by 50% with plans to eliminate completely in 2015, creating a more sustainable event.
Problem
Apps tried previously were not reliable enough to go paperless.
Solution
EventPilot allowed attendees to fully rely on the digital mobile meeting program.
Full Story »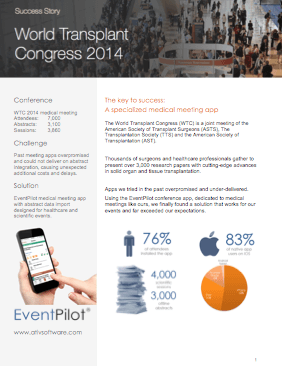 After trying out other generic meeting apps, the World Transplant Congress found the right solution with the EventPilot medical conference app.
Problem
Past apps could not deliver on integrating thousands of scientific abstracts.
Solution
EventPilot specialized conference app for medical meetings with massive and complex programs.
Full Story »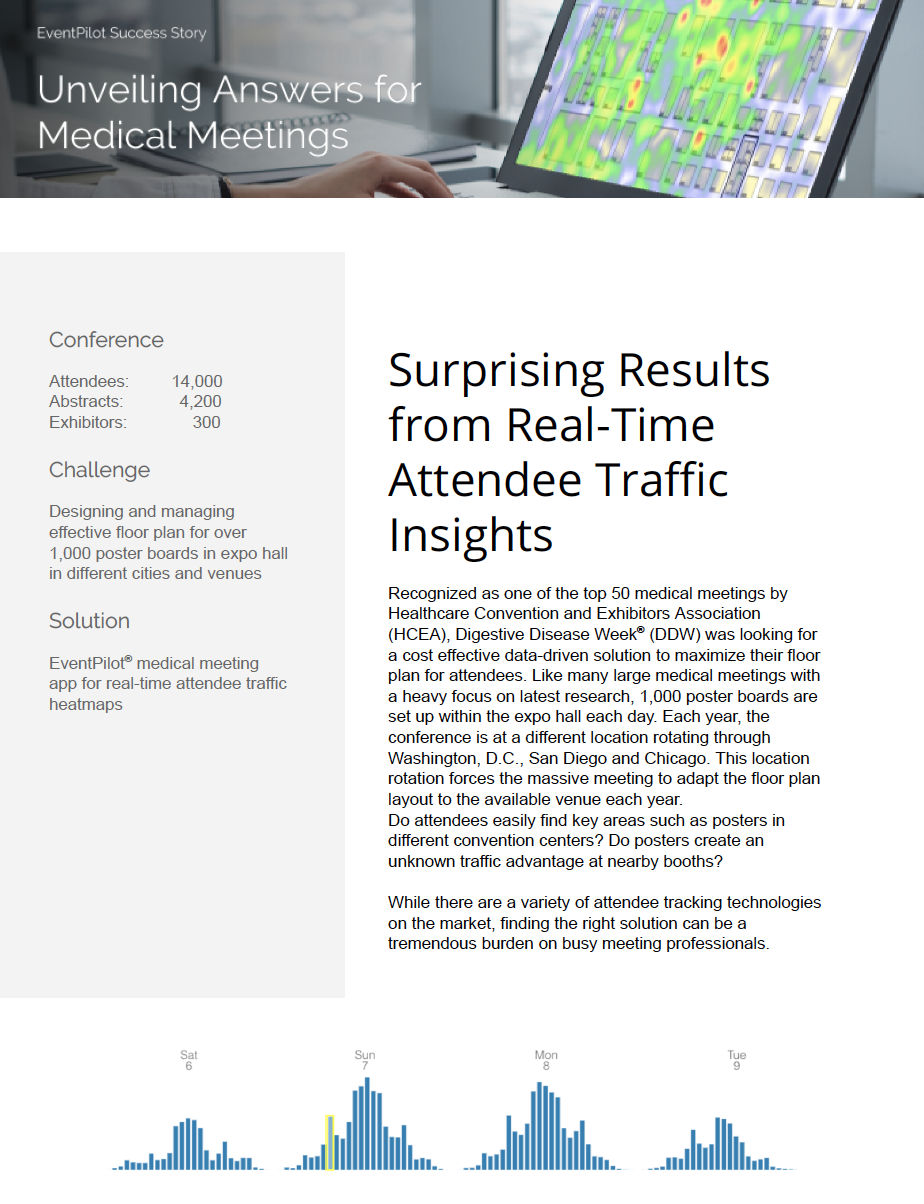 EventPilot provided Digestive Disease Week® an affordable tool to intervene in real-time and optimize their floor plan, creating better traffic flow in the poster & expo hall.
Problem
Managing a floor plan for 1,000+ posters boards set up each day.
Solution
EventPilot provided real-time attendee traffic data for DDW's poster & expo hall.
Full Story »
More Conference App Reviews
Awesome! Really makes conference easy to navigate and you can set up your own personal schedule. Most of all no paper!
SWE Explore Attendee, Annual Conference for Women Engineers
This is a must have for Annual Sessions, very easy to use and find the information I need very quickly.
AAPD Conference Attendee
Best event app I have ever used.
HRTech Conference Attendee
Super 'must go show' and truly great 'must have app' to save time and be productive!
NWCDC Attendee, National Workers' Compensation and Disability Conference
The app is like having a searchable mobile conference program guide...only better!
ASTD Events Attendee, American Society for Training & Development
Ready to upgrade your app?
---
Do you want great conference app reviews for your next meeting?
If you would like to see excellent conference app reviews for your own meeting app in the App Store or Google Play, contact us to upgrade your organization to the even app attendees call "The best conference app!"