ATIV Software's EventPilot® conference app includes professional networking capability, Peer Finder, and private messaging for attendees of ATC 2016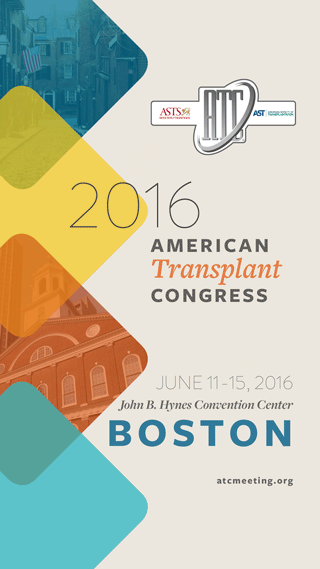 Santa Rosa, Calif. – May 24, 2016 ATIV Software announced today the release of the ATC16 medical meeting app, built on the dynamic EventPilot platform, for the annual American Transplant Congress jointly held by the American Society of Transplantation (AST) and the American Society of Transplant Surgeons (ASTS). The ATC16 event app provides attending professionals a comprehensive messaging option. This allows attendees to better connect with one another based on similar research interests and transplantation specialties. Learn more at http://ativsoftware.com.
"Making critical connections to further idea sharing is a necessary component of large medical research meetings," said Silke Fleischer, Co-Founder and CEO of ATIV Software. "The EventPilot conference app makes it possible for attendees to quickly find and connect with others working in the same field of research."
In addition to providing the entire conference proceedings, including thousands of offline searchable research abstracts, EventPilot meeting apps simplify attendee networking at large events. The EventPilot Peer Finder Module provides search and filtering capabilities within the registered attendee list. Attendees' privacy is ensured as no personal contact information is published in the app. Attendees connect via the private in-app messenger tool. With the EventPilot conference app, meeting planners equip attendees with a sustainable event program and a private networking solution.
About EventPilot
The EventPilot mobile conference app features include:
Registered attendees can save time and make meaningful connections via Peer Finder by filtering for fellow attendees based on pre-set criteria such as area of expertise or research interest.
Private Attendee-to-Attendee Messaging
Attendees can directly message one another without revealing personal contact information, allowing for long-lasting idea sharing on the latest research topics.
Offline Access to Thousands of Abstracts and Posters
Designed specifically for large medical and scientific meetings, EventPilot conference apps natively contain all session materials, including ePosters. Full text offline search capabilities ensure event app users have instant access to the latest research findings.
Availability
The free iPhone and iPad meeting app is available now in the App Store. The free Android event app is available in Google Play. Search "ATC16". A web version is available for Windows Phones and other web-enabled devices.
About the American Transplant Congress
The 2016 American Transplant Congress (ATC) is the joint annual meeting of the American Society of Transplant Surgeons (ASTS) and the American Society of Transplantation (AST), being held June 11-15 in Boston, MA. The program encourages the exchange of new scientific and clinical information and supports an interchange of opinions regarding care and management issues, as well as socioeconomic, ethical and regulatory issues relevant to organ and tissue transplantation. To learn more, visit atcmeeting.org.
About ATIV Software
ATIV Software is an event technology app company that publishes the advanced conference app EventPilot for large and complex research meetings, as well as the EventPilot Journal app for medical and scientific peer-reviewed publications. ATIV has been innovating medical and scientific meeting apps since 2010 and works with a variety of registration and abstract management vendors to enable easy data import. Learn more at www.ativsoftware.com.