The Society of Toxicology's Annual Meeting and ToxExpo launches their 'SOT2016' EventPilot Scientific Meeting App, providing over 6,500 attendees easy access to research findings and program content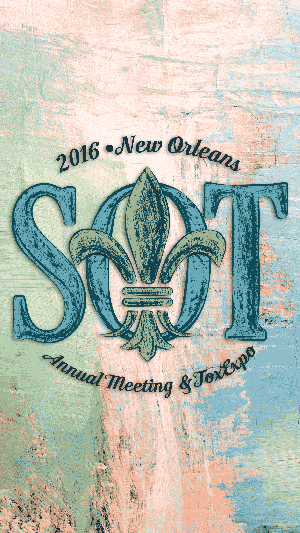 Santa Rosa, Calif. – Feb. 10, 2016 ATIV Software today released the "SOT2016" mobile conference app, built on the dynamic EventPilot platform, for the Society of Toxicology's 55th Annual Meeting and ToxExpo. The scientific event app includes instant access to thousands of research posters and offers easy scheduling of the 5-day program. Learn more at http://ativsoftware.com.
"Last year's SOT app was recognized for its impressive capacity and functionality, winning Convene Magazine's 'Best Meeting App' award," said Silke Fleischer, CEO and Co-Founder of ATIV Software. "This year's event app continues to uphold its superior reputation by supplying all vital meeting information through the native app."
EventPilot meeting apps are specialized for large scientific conferences, empowering researchers to schedule a program tailored to their specific scientific areas. Reviewing session content and abstracts completely offline, combined with a visual way to plan each day, make it easy for attendees to prepare their schedule prior to the meeting. Users are able to constantly access and make changes to their mobile schedule via the iOS and Android native apps or through the online itinerary planner. Networking among attendees is possible with messaging and social sharing features directly integrated into the event app.
About EventPilot
The EventPilot mobile conference app features include:
High-Capacity Native Mobile Meeting App
EventPilot conference apps enable large data imports from abstract management systems so meeting planners can include all content from one source.
Organizers can incorporate the Online Planner directly into their meeting website, offering attendees an easy scheduling tool that includes a two-way sync with the native conference app.
Peer Networking via Meeting App
Attendees can increase networking opportunities and keep in touch via the in-app private messenger tool.
Availability
The free iPhone and iPad meeting app is available now in the App Store. The free Android event app is available in Google Play. Search "SOT2016". A web version is available for Windows Phones and other web-enabled devices.
About Society of Toxicology
Founded in 1961, the Society of Toxicology (SOT) is a professional and scholarly organization of scientists from academic institutions, government, and industry representing the great variety of scientists who practice toxicology in the US and abroad. The Society's mission is to create a safer and healthier world by advancing the science and increasing the impact of toxicology. For more information, visit http://www.toxicology.org.
About ATIV Software
ATIV Software is an event technology app company that publishes the advanced conference app EventPilot for medical and scientific research meetings, as well as the EventPilot Journal app for peer-reviewed publications. EventPilot won "Best Meeting App" in Convene Magazine's 2015 "Best in Show" issue. ATIV has been innovating medical and scientific meeting apps since 2010 and works with a variety of registration and abstract management vendors to enable easy data import. Learn more at www.ativsoftware.com.