Annual Meeting app ensures that attendees receive all pertinent information plus benefit from advanced location aware alerts and moderated Q&A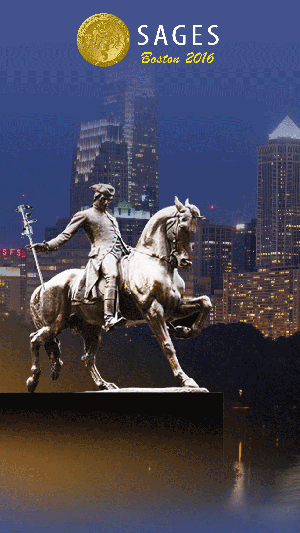 Santa Rosa, Calif. – Feb. 18, 2016 ATIV Software today released the SAGES 2016 Annual Meeting app, built on the dynamic EventPilot platform, for the Society of American Gastrointestinal and Endoscopic Surgeons (SAGES). In addition to the full and interactive mobile schedule, location-based alerts and a moderated question-and-answer feature help attendees get the timely and relevant information they need directly through their event app. Learn more at http://ativsoftware.com.
"EventPilot conference apps are specifically designed for scientific and medical meetings like SAGES so attendees can manage complex schedules of research abstracts and poster presentations," said Silke Fleischer, Co-Founder and CEO of ATIV Software. "The SAGES Annual Meeting attracts over 2,400 surgeons and EventPilot has proven to be the best mobile event app for personalizing their conference experience."
In addition to a visual scheduling tool that syncs across multiple devices, the EventPilot mobile meeting app is a key communication tool for attendees, planners, and speakers alike. Meeting planners keep their attendees knowledgeable of sessions and events nearby with location alerts. Presentation moderators can publish answers to attendee questions directly in the app at any time with the question and answer module. Attendees can keep in touch with other attendees via the in-app messenger tool that allows for the exchange of ideas without needing to exchange personal contact information.
About EventPilot
The EventPilot mobile conference app features include:
Real-Time Location Alerts and Reminders
Attendees receive just-in-time notifications about their scheduled sessions, program changes, Twitter updates and even nearby events based on their location without ever leaving the first screen of the app.
Attendees can expand upon or clarify session content via the question and answer module, submitting questions before, during, or after the session and receiving answers published by the moderators in real-time.
Event App Professional Networking
Event app users can stay connected and increase networking opportunities via the in-app private messenger tool. Additional social media integration helps attendees to easily share breakthrough research topics.
Availability
The free iPhone and iPad event app is available now in the App Store. The free Android event app is available in Google Play. Search "SAGES 2016 Annual Meeting". A web version is available for Windows Phones and other web-enabled devices.
About SAGES
SAGES, The Society of American Gastrointestinal and Endoscopic Surgeons, was founded over 30 years ago with the mission of improving quality patient care through education, research, innovation and leadership, principally in gastrointestinal and endoscopic surgery. SAGES is a leading surgical society, representing a worldwide community of over 6,000 surgeons, whose annual meeting is oriented toward minimally invasive surgery. Learn more at www.sages.org.
About ATIV Software
ATIV Software is an event technology app company that publishes the advanced conference app EventPilot for medical and scientific research meetings, as well as the EventPilot Journal app for peer-reviewed publications. EventPilot won "Best Meeting App" in Convene Magazine's 2015 "Best in Show" issue. ATIV has been innovating medical and scientific meeting apps since 2010 and works with a variety of registration and abstract management vendors to enable easy data import. Learn more at www.ativsoftware.com.