Pittcon attendees can access over 2,000 technical sessions and 700 exhibitors with the Pittcon 2016 event app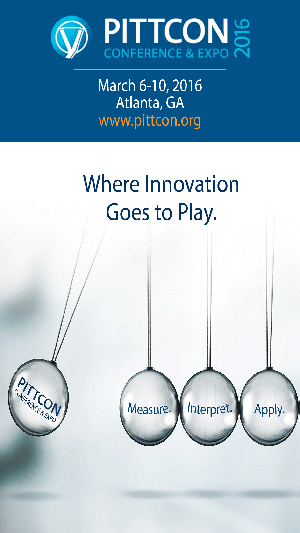 Santa Rosa, Calif. – Jan. 13, 2016 ATIV Software today released the Pittcon 2016 mobile conference app powered by EventPilot for The Pittsburgh Conference and Exposition (Pittcon). The EventPilot conference app enables Pittcon's meeting planners to provide attendees a paperless tool for browsing all conference proceedings and exhibitors as well as for building their personalized schedules across multiple devices. Learn more at http://ativsoftware.com.
"For a large event with a vast expo hall, attendees need an easy way to plan and find all the vendors they want to see," said Silke Fleischer, CEO and Co-Founder of ATIV Software. "Pittcon is a leader when it comes to implementing event technology. As an early adopter of mobile meeting apps, they have partnered with us to provide a powerful event app that enables attendees to navigate such a massive technical conference."
EventPilot conference apps provide a long-lasting and sustainable solution that helps reduce a meeting's carbon footprint. All program content is included in one easy-to-use event app. Thousands of laboratory science experts attending this year's Pittcon can browse relevant program sessions and exhibitors. Using the event app is easy with visual timeblocks and enhanced filtering capabilities. Attendees can navigate the expansive exhibit hall with animated mapping features that drop pins on exhibitor locations, click through to exhibitor details via reverse mapping, and highlight favorited exhibitors.
About EventPilot
The EventPilot mobile conference app features include:
EventPilot supports paperless events by integrating all conference content into the event app, such as session and exhibitor content, PowerPoint slides, PDFs, handouts, abstracts, videos, surveys and live polls, creating a valuable reference tool that is used by attendees long after the event.
Animated Mapping Features
Pin drop animations show attendees precisely where session rooms and exhibitors are located at the venue. A user's favorited exhibitors display an icon directly in the venue map allowing for easy navigation and efficient use of exhibit hall time.
Synchronization Across Different Platforms
Attendees can seamlessly transition from one device to the next. The event app automatically backs up all user data in the EventPilot cloud and syncs all changes across different operating systems.
Availability
The free iPhone and iPad meeting app is available now in the App Store. The free Android event app is available in Google Play. Search "Pittcon 2016". A web version is available for Windows Phones and other web-enabled devices.
About Pittcon
Pittcon® is a registered trademark of The Pittsburgh Conference on Analytical Chemistry and Applied Spectroscopy, a Pennsylvania non-profit organization. Co-sponsored by the Spectroscopy Society of Pittsburgh and the Society for Analytical Chemists of Pittsburgh, Pittcon is the premier annual conference and exposition on laboratory science.
About ATIV Software
ATIV Software is an event technology app company that publishes the advanced conference app EventPilot for medical and scientific research meetings, as well as the EventPilot Journal app for peer-reviewed publications. EventPilot won "Best Meeting App" in Convene Magazine's 2015 "Best in Show" issue. ATIV has been innovating medical and scientific meeting apps since 2010 and works with a variety of registration and abstract management vendors to enable easy data import. Learn more at www.ativsoftware.com.