AEA's annual Allied Social Science Associations meeting leverages ATIV's event app for easy access to nearly 2,000 research papers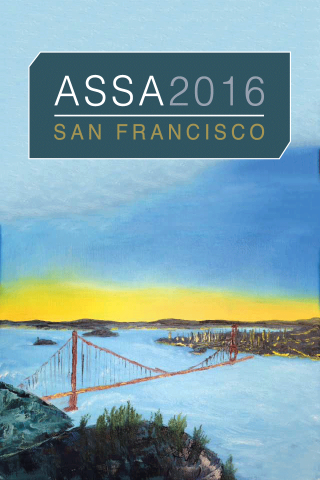 Santa Rosa, Calif. – December 7, 2015 ATIV Software today announced the availability of the ASSA 2016 Annual Meeting mobile conference app, built on the dynamic EventPilot platform, for the 2016 Annual Meeting of the American Economic Association in San Francisco. EventPilot meeting apps are a high-end mobile event technology that offers attendees a way to manage their schedule and easily review papers and discuss the latest research with peers. Learn more at www.ativsoftware.com.
"With over 1,900 papers being presented at their annual meeting, providing a quick and easy way for event app users to navigate research topics is extremely important," said Silke Fleischer, CEO and Co-Founder of ATIV Software, developers of the EventPilot conference app. "The 'ASSA 2016 Annual Meeting' app allows users to build their schedule effortlessly on a smartphone and even increases networking among attendees."
EventPilot is an event app specifically designed to create the best user experience for economics professionals. The mobile meeting app provides instant access to the latest research through intuitive navigation and a powerful search functionality. Attendees can personalize their meeting schedule with topic-based session filters to focus on specific areas of study. Users have the ability to share key learnings with other attendees on topics of interest with the event app's in-session commenting feature.
About EventPilot
The EventPilot mobile conference app features include:
Easy Navigation of Research Presentations
Designed for scientific and medical events, EventPilot conference apps natively contain all conference proceedings with custom filtering options and advanced offline boolean search.
EventPilot supports paperless events by integrating abstracts and a note-taking capability directly into the meeting app. Meeting planners can continuously manage all program content via EventPilot, including attendee notifications and program changes.
The meeting app keeps the exchange of ideas and feedback pertinent to presentation topics via integrated session commenting.
Availability
The free iPhone and iPad meeting app is available now in the App Store. The free Android event app is available in Google Play. Search "ASSA 2016 Annual Meeting". A web version is available for Windows Phones and other web-enabled devices.
About American Economic Association
The American Economic Association promotes the encouragement of economic research, the issue of publications on economic subjects, and the encouragement of perfect freedom of economic discussion. For more information, visit http://www.vanderbilt.edu/AEA.
About ATIV Software
ATIV Software publishes the EventPilot advanced conference app for large medical and scientific research meetings, as well as the EventPilot Journal app for peer-reviewed publications. EventPilot won "Best Meeting App" in Convene Magazine's 2015 "Best in Show" issue. ATIV has been innovating medical and scientific meeting apps since 2010 and works with a variety of registration and abstract management vendors to enable easy data import. Learn more at http://www.ativsoftware.com.