Desktop online planner enables conference attendees to visually plan each day and sync with offline mobile event app
Santa Rosa, Calif. – July 21, 2015 ATIV Software, publishers of the leading mobile conference app for medical and scientific meetings — EventPilot — announced today the availability of a new interactive scheduling tool in the companion Online Itinerary Planner. Designed for large scientific conference and medical meetings, attendees can now plan their conference schedule visually and make the most of each day at the event.
The new Visual Schedule gives our attendees the ability to quickly max out their schedule ahead of time
Jason Levine,
Society of American Gastrointestinal and Endoscopic Surgeons
"If you are going to a medical or scientific conference with thousands of presentations, you need a calendar style view to even realize how much or how little you are packing into each day." said Silke Fleischer, CEO and co-founder of ATIV Software. "Our new interactive schedule view helps attendees to quickly notice any gaps in their itinerary and fill those to maximize the education value of the event."
The new visual schedule builder is an innovative tool for any attendee to efficiently plan each day at large conferences or annual meetings. An interactive, color-coded timetable helps attendees realize graphically, which events are occurring at what times. Already scheduled sessions appear overlaid on the timetable to expose unfilled time slots and available events.
"The new Visual Schedule for EventPilot not only gives our attendees the ability to quickly, easily, and efficiently max out their schedule ahead of time, it also serves as an excellent marketing tool for undecided attendees as they 'try the meeting on for size' to determine if they can set a schedule that is worth the time out of the office," said Jason Levine, Society of American Gastrointestinal and Endoscopic Surgeons.
The visual schedule building tool benefits meeting planners and event organizers. Meeting professionals carefully develop each curriculum, the innovative itinerary planner ensures awareness of the full educational curriculum offered at the conference by visually representing all ongoing events.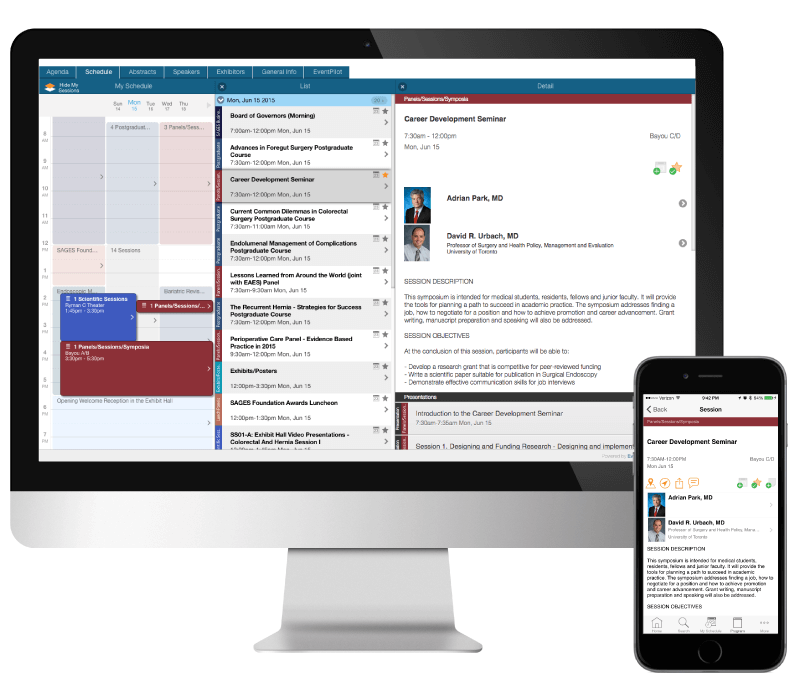 New Features of the Online Itinerary Planner Include:
Interactive Calendar view: Attendees see their scheduled sessions within an interactive calendar view that is color coded by session track.
Interactive Timetable Overview: A timetable visually displays all available conference sessions collapsed into interactive blocks of time during the day. This enables attendees to identify gaps in their schedules and fill those with relevant sessions during those time slots – all from within the schedule view.
Multiple panes for instant overview: Collapsible panes provide an instant overview so attendees can remain in one single view or page while building their schedule.
Automatic sync with the meeting app: Logged-in attendees seamlessly switch between the online planner and the app. Schedule, bookmarks, and marked CME / credit sessions are synchronized.
Availability: The new visual schedule functionality is available immediately.
About the EventPilot Online Itinerary Planner
The Online Planner is a desktop companion to the EventPilot conference app. It allows attendees to plan their conference itineraries. Medical and scientific meeting organizers can easily integrate this desktop online planner into their websites. The meeting planner seamlessly syncs personal schedules and credits / CME with the robust mobile conference app EventPilot.
About ATIV Software
ATIV Software is the leading event app provider for medical and scientific meetings and publishes the mobile conference app EventPilot as well as EventPilot Journal app for custom medical and scientific peer reviewed publications. Available as native app for iOS and Android. Web-app included for other devices like Windows Phones. Visit us online to learn more – http://www.ativsoftware.com.