Members of the National Council of State Boards of Nursing are benefitting from new mobile technologies during their annual meeting in Dallas
Santa Rosa, Calif. – August 8, 2012 ATIV Software offers the NCSBN 2012 conference program based on the EventPilot platform to enable a cutting edge conference experience at the NCSBN annual meeting. With the convenient native app, attendees are able to easily build and manage their personal agenda without requiring Wi-Fi access.
"The EventPilot meeting app is the most cutting edge native event app to deliver all conference information on mobile devices," said Eric Converse, CTO and co-founder of ATIV Software. "EventPilot is specifically developed for healthcare and scientific meetings and is designed to help attendees focus on discussing important regulatory issues, save time planning their sessions, and stay organized with built-in session and exhibitor note taking."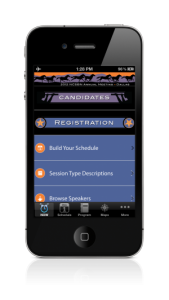 Features of the EventPilot mobile conference app also include:
Powerful Personal Scheduling Features
Enable attendees to easily fill their day by adding sessions to their visual schedule, see open time slots, or add personal meetings with exhibitors.
Offline Note Taking to Stay Organized
Attendees take notes directly within the app in context of sessions, speakers, or exhibitors. All notes can be exported via an organized email report.
Native Mobile Event App with True Offline Functionality
Native iPhone, iPad, and Android conference app ensures best performance, network independence, and device specific navigation users expect.
Availability
The free iPhone and iPad conference apps are available now in the App Store by searching for "NCSBN 2012". The free Android event app is available in Google Play by searching for "NCSBN 2012". An online version for web-enabled devices is available.
About ATIV Software
ATIV Software offers EventPilot, the customizable mobile conference app for training, corporate event and association meeting planners. EventPilot is available as a native app for the iPhone, iPod Touch, iPad, and Android as well as a mobile web version for all other web-enabled devices including Windows Phone 7. For more information and to check out the many other features, visit http://www.ativsoftware.com.