EventPilot conference app brings instant access to latest scientific discoveries to the world's largest gathering of international eye and vision researchers at the annual meeting of the Association for Research in Vision and Ophthalmology
Santa Rosa, Calif. – May 4, 2012 ATIV Software today released the ARVO 2012 conference program in the free EventPilot Express app for clinicians and researchers attending the world's largest gathering of international eye and vision researchers in Florida next week. The meeting is organized by the Association for Research in Vision and Ophthalmology. The organization offers its over 12,000 attendees the EventPilot app to conveniently build their personal schedule out of thousands of paper and poster sessions.
"The EventPilot app exceeds our expectations, and we are excited to be able to offer it to our attendees," said Brian Kirkland, Assistant Director of Education at ARVO. "Easy access to the cutting-edge research presented at our meeting is critical to them. EventPilot allows us to do this and much more, helping our attendees get the most out of our meeting."
The EventPilot conference app is specifically designed to manage massive and complex scientific conference programs. The ARVO app contains about 7,000 research abstracts and thousands of speakers. High performance, intuitive navigation, and a professional visual user interface provide the best attendee experience. To ensure uninterrupted access to the schedule and scientific abstracts, EventPilot native apps are fully accessible offline on iPhone, iPad, Android phones or Android tablets.
"EventPilot is the ideal app for events with a large number of attendees and massive datasets like ARVO's annual meeting," said Silke Fleischer, CEO and co-founder of ATIV Software. "We designed our apps specifically for healthcare and medical events with comprehensive schedules. The design helps attendees save valuable time finding and accessing the latest scientific research while organizers can save on printing costs."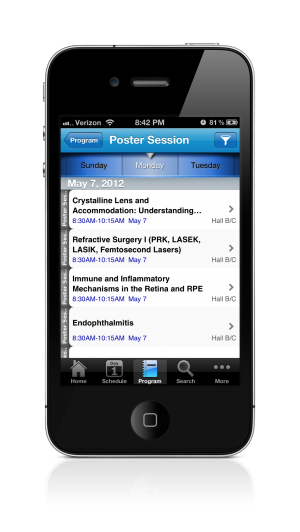 Features of the EventPilot mobile conference app also include:
Native Mobile Event App with True Offline Functionality
Native iPhone, iPad, and Android conference app ensures best performance, network independence, and device specific navigation users expect.
Paperless Events with Unique PowerPoint Slide Viewer with Note Taking
Integrate all session PowerPoint presentations to build a mobile learning tool while saving on printing costs. Attendees can take notes directly on slides within the application.
Powerful Personal Scheduling Features
Enable attendees to easily fill their day by adding sessions to their visual schedule, see open time slots, or add personal meetings with exhibitors.
Availability
The free iPhone and iPad conference apps are available now in the App Store by searching for "EventPilot". The free Android event app is available in the Android market and at the Amazon App Store by searching for "EventPilot".  A web version for BlackBerry and other web- enabled devices is available.
EventPilot Express Code: ARVO 2012
About The Association for Research and Vision in Ophthalmology (ARVO)
ARVO is the largest eye and vision research organization in the world. Members include more than 12,500 eye and vision researchers from over 80 countries. ARVO encourages and assists research, training, publication and knowledge-sharing in vision and ophthalmology. For more information, visit http://www.arvo.org
About ATIV Software
ATIV Software offers EventPilot, the customizable mobile conference app for corporate event and association meeting planners. EventPilot is available as a native app for the iPhone, iPod Touch, iPad, and Android as well as a mobile web version for all other web-enabled devices including BlackBerry. For more information and to check out the many other features, visit http://www.ativsoftware.com.
# # #