EventPilot's offline PowerPoint slide viewer with built-in note taking offers a cutting-edge mobile learning experience for medical executives at AAOE's 43rd Annual Conference in New Orleans
Santa Rosa, Calif. – May 2, 2012 ATIV Software today released the AAOE 2012 conference app, built on the powerful EventPilot conference app platform, for medical executives attending the American Association of Orthopaedic Executives Annual Conference. The integrated unique mobile PowerPoint viewer with slide-based note taking turns EventPilot into a sophisticated learning tool for conference attendees.
"Our attendees are all executives who are expecting the highest quality in content and technology. A professional meeting app was our first priority in choosing the EventPilot mobile conference platform." said Addy Kujawa of AAOE. "What makes EventPilot different and exciting for us is the ability to include all presentations directly in the session information. With this app, our attendees not only navigate our conference but they can use EventPilot to capture and organize what they have learned."
The EventPilot Mobile conference app includes offline PowerPoint presentations so attendees can follow along with the presentation and take notes on slides, bookmark key content, and even share important slides on Twitter or via Email. The offline accessibility of the EventPilot conference app ensures that all materials, schedule, and notes are available before, during, and after the event.
"A high quality conference app needs to offer more than just the event program." said Silke Fleischer, CEO and Co-founder of ATIV Software. "AAOE attendees can conveniently and easily use EventPilot to build their personal schedule, find their sessions, take notes on important presentation slides, and share key insights with their peers via the built-in Twitter. EventPilot is a unique mobile learning and networking tool for today's medical events."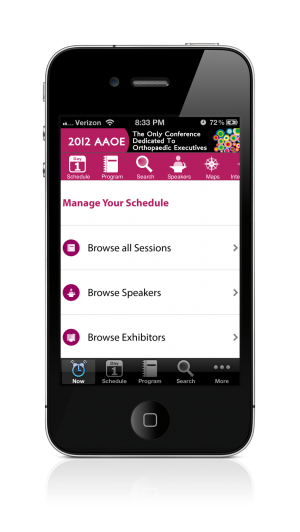 Features of the EventPilot mobile conference app also include:
Offline access to PowerPoint presentations directly from session descriptions and follow along during the presentation. Bookmark slides, take notes, or share slides via Twitter with peers.
Sharing and Networking
The Facebook and Twitter integration enables attendees to share interesting sessions with their peers and extend the reach for presenters and event organizers.
Sponsorship Opportunities
Include interactive rotating banner ads and highlight event sponsors and exhibitors that provide the latest in medical technology.
Availability
The free iPhone and iPad conference apps are available now in the App Store. The free Android event app is available in the Android market and at the Amazon App Store.  A web version for BlackBerry and other web- enabled devices is available.
About American Association of Orthopaedic Executives (AAOE)
Founded in 1933, the AAOE is the preeminent provider of musculoskeletal education to orthopaedic surgeons and others in the world. For more information, visit http://www.aaos.org/
About ATIV Software
ATIV Software offers EventPilot, the customizable mobile conference app for corporate event and association meeting planners. EventPilot is available as a native app for the iPhone, iPod Touch, iPad, and Android as well as a mobile web version for all other web-enabled devices including BlackBerry. For more information and to learn about the many other features, visit http://www.ativsoftware.com.
# # #