Attendees at the annual American Society of Safety Engineers (ASSE) conference in Denver easily manage and personalize their conference experience using the EventPilot Conference app with advanced keyword filtering and schedule synchronization
Santa Rosa, Calif. – April 26, 2012 ATIV Software today released the Safety 2012 conference app, built on the powerful EventPilot conference app platform, for professionals attending the American Society for Safety Engineers Professional Development Conference and Exposition. The advanced topic filter and schedule integration optimizes the conference experience helping attendees save time and stay focused on individualized professional goals.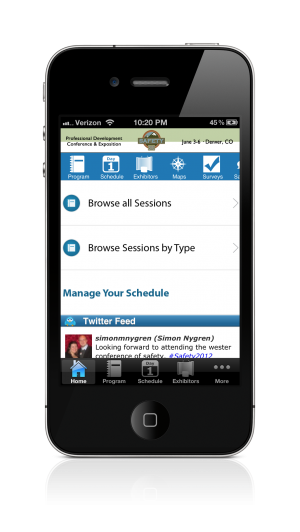 "As the highest quality conference in our industry we wanted to tie in our program with the highest quality mobile app on the market." said Jon Schwerman, E-Commerce Marketing Manager for ASSE. "The EventPilot conference app met our strict requirements with its sophisticated features and a highly professional layout. EventPilot not only brings cutting-edge technology to our society but helps our attendees to meet all their professional goals at our conference."
With over 250 sessions to choose from, safety professionals can use the intuitive app to easily manage their daily schedule. The filtering and schedule download features in EventPilot help attendees match their goals with the available learning and networking opportunities at the event. This helps attendees navigate the event effectively using focused and personalized lists of sessions, speakers, and exhibitors. The EventPilot conference app is fully accessible offline on mobile devices such as iPhone, iPad, Android phones or Android tablets, ensuring constant access to the schedule and any personalized content.
"The conference attendees' experience is the most important contributing factor when we design the EventPilot conference apps." says Silke Fleischer, CEO and co-founder of ATIV Software. "To help leading professionals make the most of their event experience at Safety 2012, we ensure the app is easy to use, runs very fast, and works even if Wi-Fi is down. Our app is a professional tool for conference goers and a perfect match for a high quality event like Safety 2012. The EventPilot conference app is an invaluable tool in today's conference experience."
Features of the EventPilot mobile conference app also include:
Native Mobile Event App with True Offline Functionality
Native iPhone, iPad, and Android conference app ensures best performance, network independence, and device specific navigation users expect.
Schedule synchronization
If a schedule is created during registration, all selected sessions are downloaded to the device and synchronized among different devices.
Built-in smart filters
Advanced meta filters are personalized by each attendee for optimum functionality, focusing the event program for individual learning goals.
Availability
The free iPhone and iPad conference apps are available now in the App Store. The free Android event app is available in the Android market and at the Amazon App Store. A web version for BlackBerry and other web-enabled devices is available at http://ativ.me/safety2012.
About American Society of Safety Engineers(ASSE)
ASSE represents more than 34,000 safety, health and environmental (SH&E) professionals who work across all industries around the world protecting people, improving business and safeguarding the environment. For more information, visit http://www.asse.org/
About ATIV Software
ATIV Software offers EventPilot, the customizable mobile conference app for corporate event and association meeting planners. EventPilot is available as a native app for the iPhone, iPod Touch, iPad, and Android as well as a mobile web version for all other web-enabled devices including BlackBerry. For more information and to check out the many other features, visit http://www.ativsoftware.com.
# # #