Specific new features for medical meetings!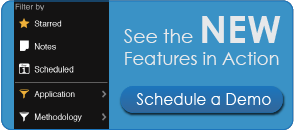 We are excited to launch our new version of EventPilot with some great features that make event planner's lives easier and give medical and scientific meeting attendees more control over managing massive event programs.
Smart Filters

The smart filter functionality allows users to create manageable lists of choices that are relevant to their individual interests. You can filter sessions, speakers, and exhibitors by meta tags and also very easily filter content by starred items or items with user notes. Sessions that have been added to the schedule can also be filtered.
Poster Presentations (Sub-sessions)

Poster presentations are neatly organized within sessions as individual sub-sessions. Like normal sessions, sub-sessions are fully interactive with their own respective speakers, abstracts, PowerPoint slides, etc. and, of course, the ability to take notes or bookmark. Attendees can choose to add the entire session or specific presentations to their schedules.
Color Coded Schedule

Timeblocks provide attendees a quick way to see the conference day at a glance and fill any empty time slots and take advantage of your entire event program. Schedule timeblocks now automatically display their matching category color to make it easier for attendees to visual their upcoming events.
Intuitive Admin Backend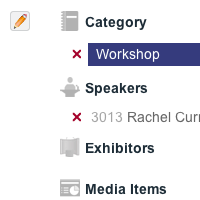 Easily control all aspects of your app with the new intuitive backend. Add, edit, or remove sessions, speakers, locations, media items, links, etc. Quickly adjust layout, the home screen, sponsor ads and publish data updates at any time.
Increased Performance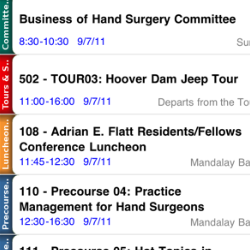 With increased performance and memory optimization, EventPilot is highly scalable and handles large data sets with ease. Accessing long lists of content or searching for abstracts is instant even for programs with thousands of sessions and speakers.
New Webapp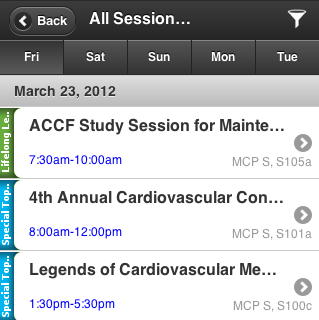 The EventPilot web version has been completely revamped to match the native app design and core functionality including search and filters. (All publicly facing EventPilot implementations receive a complimentary Web app for non iOS/Android devices.)
Android Tablet Optimized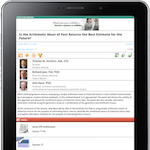 In addition to natively running on iPad, EventPilot now supports Android tablet devices including Amazon Kindle Fire. Design optimizations for different screen densities provide Android users with a visually improved event program experience. (Some limitations apply due to the vast number of devices and manufacturer's changes to the standard OS)
Additional Enhancements
Push mandatory schedules based on user login
Launch 3rd party apps from from EventPilot (iOS only)
Launch EventPilot from 3rd party apps (iOS only)
Display total main session numbers per category