Ideal for medical and scientific events, new release of EventPilotmeeting app adds powerful and intuitive navigation capabilities to easily manage large conference agendas offline on mobile devices
Santa Rosa, Calif. – February 24, 2012 ATIV Software today released EventPilot 6.0, the newest version of its cross-platform and native mobile conference app. This milestone release gives event planners and meeting organizers a powerful mobile event app that enables attendees to easily navigate large and complex conference schedules completely offline. Learn more at http://ativsoftware.com.
"Our clients, many of them in medical or scientific fields, organize events with over 10,000 attendees so they have massive conference programs that contain thousands of sessions, scientific posters or medical abstracts," said Eric Converse, co-founder and CTO of ATIV Software. "EventPilot 6.0 extends our intuitive interface and makes it easy to explore even the largest and most sophisticated conference programs without requiring Internet access."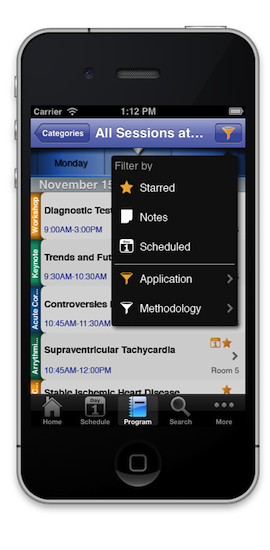 New Features
Easily manage extensive conference programs via Filters and Sub-Sessions
Built-in smart Filters help trim the vast programs to manageable lists of choices that are relevant to the specific interests of the attendee. Poster presentations are neatly organized within sessions as individual sub-sessions. Like normal sessions, sub-sessions are fully interactive with their own respective speakers, abstracts, PowerPoint presentations, evaluation links, etc. and the ability to take notes, star rate, or add to the schedule.
Organize visually in color-coded schedule
Attendees can easily visualize their upcoming events via a brief glace at their personal daily schedule. Time-blocks and sessions display in corresponding colors of their category or track.
Quickly produce and manage app content via a powerful and intuitive admin backend
Meeting organizers and event planners can easily control the app content, adjust the layout, home screen, sponsor ads 24/7, and publish data updates at any time.
Push mandatory schedules
Internal sales and marketing meetings can set predefined mandatory schedules that download when the attendees log in.
Save valuable time
With increased performance and memory optimization, EventPilot is highly scalable and handles large data sets with ease.
Benefit from the large screen on Android tablets
In addition to natively running on iPad, EventPilot now fully supports Android tablet devices including Amazon Kindle Fire, providing a visually enhanced event program experience.
Launch third party apps
Organizers can launch existing apps of their organization from within EventPilot on iOS. At the same time, the EventPilot iOS version can as easily be launched from other iOS apps.
Web App enhancements
The Web App provided for other web enabled devices now includes the global search functionality, filters, and social sharing found in the native apps.
Availability
EventPilot 6.0 is available for new implementations now and supports native apps for iPhone, iPad, Android smartphones and tablets, and Amazon Kindle Fire. For publicly distributed implementations, a complimentary Web app is included to support any non-iOS or Android smart devices.
About ATIV Software
ATIV Software offers EventPilot, the customizable mobile conference app for corporate event and association meeting planners. EventPilot is available as a native app for the iPhone, iPod Touch, iPad, Android phones and tablets, Amazon Kindle Fire, as well as a mobile web version for all other web-enabled devices including BlackBerry or Windows Phone 7. For more information, visit http://www.ativsoftware.com.