Proactively Reduce Paper with EventPilot Conference App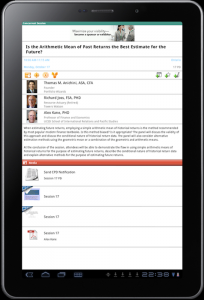 Yesterday, MeetingsNet posted an interview regarding the Green Meetings Standards that are about to be published before the end of this year.
Read the Interview
The standards (co-created by CIC's APEX Green Meetings and Events Panel and the ASTM International) address communications and marketing materials, which traditionally have been paper based.
While the standards are voluntary, the question of adoption by all players remains. When it comes to paper reduction however, the cost savings and much improved attendee experience by using a conference app make going paperless a no brainer:
Event program and all materials including PowerPoint presentations and exhibitor brochures in one coherent location
Interactive with instant global search
No additional weight
Easily updateable 24/7
In-context note taking
Bookmarking
Social media integration
Sponsor ads click-through tracking
Links to other content such as local information, facebook page, membership, etc.
Integrated with registration system to download personal schedule
and more …
We work with many corporate, scientific, and medical events where conference brochures and printing of scientific abstracts or training manuals can be reduced by at least 50%, if not avoided all together, and significant environmental savings in addition to cost savings can be achieved. Try to estimate the environmental impact and savings using the CO2 and Cost Calculator.