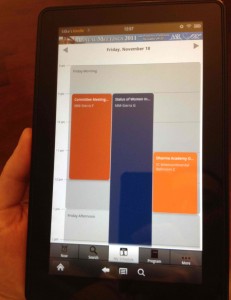 With the recent release of Amazon's Kindle Fire, we put the native Android version of EventPilot to the test and can say that the app works beautifully on this new device. The low-priced Kindle Fire has a great form factor for those who would be attending a conference or event, but don't want to spend more than $200 on a tablet. The Kindle Fire nicely fits in the hand or pocket (if you have large pockets) and overall is a lot easier to carry around than its larger tablet rival the iPad.
While the Kindle Fire doesn't boast the fastest processors, highest speeds or support for all APIs (you'll only miss the Bump and QR contact sharing of EventPilot), we've been pleasantly surprised with its performance and usability. Unlike a traditional Android device, the UI is centered more around content like books, magazines and videos - and less around apps. It has also abandoned the hardware back, menu, home and search keys in favor of soft keys much like what is now available in Honeycomb and the upcoming Ice Cream Sandwich.
All of this combined with Amazon's built in services and its rock bottom price make the Kindle Fire a no-brainer for anyone looking for a tablet.