For Immediate Release
CO2/Cost calculator helps event planners estimate impact of choosing mobile event apps over paper
Meeting planners now have a free tool that reveals minimum cost savings and environmental impact to support a paperless strategy switching to smartphone conference apps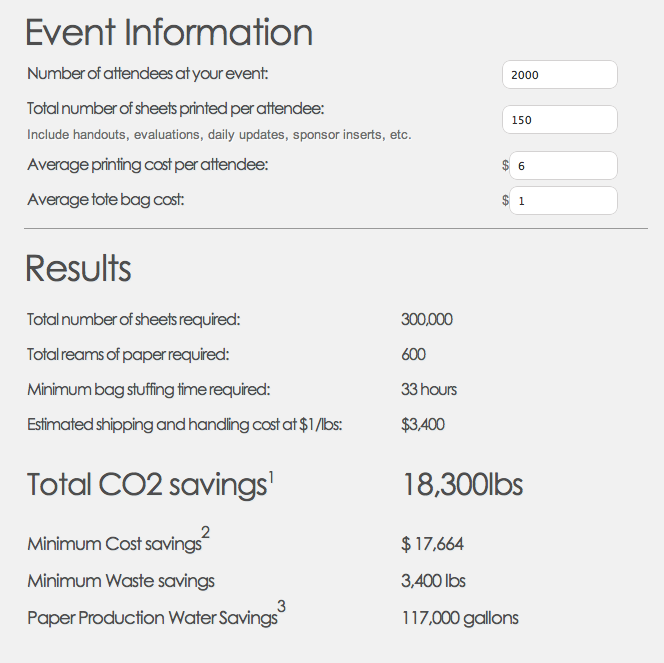 Santa Rosa, Calif. – October 3, 2011 ATIV Software now enables event planners to estimate their carbon footprint and cost savings for paperless conferences and meetings with a useful and free CO2 and Cost calculator.
Learn more at http://ativsoftware.com
"The CO2 calculator from ATIV is exciting for our technology strategy. We have used their EventPilot mobile app to reduce paper at our NNS conference. In addition to the tremendous cost and time savings by not having to deal with the printed materials, we were proud to estimate the tons of CO2 savings for this year and shared that with our attendees", said Karen Gottlieb, TLC Events Group, Inc. "Our members are becoming more educated about the high environmental impact of attending events, so everything we do as an organizer shows our shared commitment towards sustainability."
ATIV's CO2 calculator is designed to estimate emission, cost and water savings based on the number of attendees, total number of sheets printed and average printing cost. The calculator also estimates saved time by lowering or eliminating the need for staff and/or volunteers to do bag stuffing. The calculator determines the total number of sheets and reams required and, in addition to stuffing time and cost savings, estimates the environmental CO2, waste, and water savings.
Annual printing cost for corporate training or large events can easily reach over $100,000 and result in more than five pounds of quickly outdated materials per attendee. Considering the nearly two million meetings annually in the US with over 200 million attendees and that one pound of paper is responsible for about 30lbs CO2 emissions, the CO2 produced from printing conference programs and handouts contributes hundreds of millions of tons of CO2 that could easily be eliminated by switching to a digital format.
Using the EventPilot mobile app that is designed to not only manage comprehensive event programs but also thousands of medical and scientific abstracts, presentation slides, maps and exhibitor information, the traditional paper programs are not only eliminated but enhanced through personalization, interactivity and social media integration.
"Meeting planners can significantly impact the overall event CO2 footprint by the choices they make when organizing their conferences." said Silke Fleischer, Co-Founder and CEO at ATIV Software. "The CO2 calculator helps them estimate different environmental and event cost factors that can easily be reduced with today's sophisticated mobile technologies."
Availability
The free calculator is available at http://ativ.me/calculator
About ATIV Software
ATIV Software offers EventPilot, the customizable mobile conference app for event and meeting planners. EventPilot is available as a native app for the iPhone, iPod Touch, iPad, and Android as well as a mobile web version for all other web-enabled devices including BlackBerry. For more information, visit http://www.ativsoftware.com.