The dynamic EventPilot conference app gives hand surgery professionals instant access to built-inmedical information at their fingertips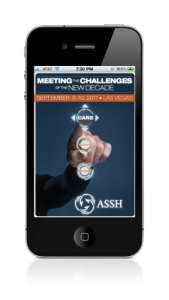 Santa Rosa, Calif. – August 12, 2011 ATIV Software released the ASSH AM 2011 conference app for the American Society for Surgery of the Hand's 2011 Annual Conference today. The app's many features provide medical professionals the ability to quickly navigate, engage in, and retain the wealth of medical information and educational opportunities provided at the ASSH Annual Meeting.
The EventPilot meeting app is designed to allow conference attendees to quickly manage over 250 sessions and find the most pertinent educational experience for them. Utilizing the note-taking and favorites-starring functions, conference attendees can save time and easily e-mail a complete meeting report or return to their saved favorites any time. EventPilot is designed as a true native app so conference participants will be able to access all conference information including scientific abstracts offline and independent of available Internet access.
"The ASSH Annual Meeting is dedicated to providing state-of-the-art continuing medial education in the field of hand and upper extremity surgery," states Jessica Daniels on behalf of ASSH. "With EventPilot, our attendees will be able to quickly find specific activities and papers related to their expertise and with the powerful networking capabilities, experts will learn from each other first hand. We're excited to offer EventPilot and look forward to reading all the Twitter chatter within the app."
"A conference experience is about networking and learning," says Eric Converse, co-founder of ATIV Software and developer of EventPilot. "In-app social networking features allow knowledgeable minds to come together and take the discussion to the next level."
About Event Pilot
Conference app features include:
Native App with True Offline Functionality
Native Android conference app, iPhone conference app and iPad conference app to ensure best performance, network independence, and device specific navigation users expect.
Sharing and Networking
The Facebook and LinkedIn integration enables attendees to share interesting sessions with their peers and extend the reach for presenters and event organizers. Unique presentation slide tweeting to share key insights with others and integration of Twitter, Bump, and QR technology to allow easy networking.
Real-Time Updates and Reminders
Attendees receive just-in-time notifications about their scheduled sessions, program changes, and Twitter updates without ever leaving the first screen.
Rich Experience
EventPilot Plus supports PowerPoint slides, YouTube video, PDFs, handouts, surveys, live polls, note taking, and more to create a valuable reference app that is used by attendees long after the event.
Availability
The free iPhone and iPad conference app is available now in the App Store. The free Android event app is available in the Android market. A web version for BlackBerry and other web- enabled devices is available at http://tinyurl.com/ASSHAM11.
About ASSH
Founded in 1946, the American Society for Surgery of the Hand (ASSH) is the oldest medical specialty society in the United States devoted to continuing medical eduation related to hand surgery. ASSH members are hand surgeons and medical professionals who specialize in the treatment of hand and upper extremity related conditions.
The mission of the American Society for Surgery of the Hand (ASSH) is to advane the science and practice of hand surgery through education, research and advocacy on behalf of patients and practitioners.
This year's annual meeting marks 66 years of continuing education and dedication to the highest care and most current technology.  For more information, visithttp://www.assh.org/AnnualMeeting.
About ATIV Software
ATIV Software offers EventPilot, the customizable mobile conference app for event professionals, meeting planners, and associations. EventPilot is available as a native app for the iPhone, iPod Touch, iPad, and Android as well as a mobile web version for all other web-enabled devices including BlackBerry. For more information, visit http://www.ativsoftware.com.