EventPilot increases ROI for attendees at the SOA 2011 Annual Meeting by offering an easy flow of information and communication all on the attendees' own mobile devices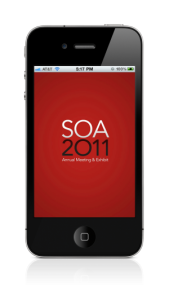 Santa Rosa, Calif. – August 16, 2011- ATIV Software today released the SOA Annual Meeting mobile conference app for the Society of Actuaries. The app is built on the dynamic EventPilot platform and enables SOA's meeting attendees to make the most of attending the meeting by allowing to efficiently plan their conference experience as well as networking and learning from fellow professionals in financial and risk management.
Learn more about EventPilot at http://ativsoftware.com.
EventPilot media rich conference apps are designed to enhance communication and provide a greater take-away opportunity for meeting participants than traditional programs. "We've used EventPilot for our custom conference apps at multiple events. EventPilot goes beyond offering quick and up-to-date conference information to attendees," states Tim Moberly, Director of Technology Services for SOA. "The SOA Annual Meeting app allows our attendees to make connections and engage with others in real time."
Utilizing the native EventPilot app, attendees have offline and online access to pertinent event information and contacts before, during and after the event so that the learning and engagement continues well beyond the end of the meeting.
About EventPilot
The EventPilot mobile conference app features include:
Native Mobile Event App with True Offline Functionality
Native Android conference app, iPhone conference app and iPad conference app to ensure best performance, network independence, and device specific navigation users expect.
Sharing and Networking
The Facebook and LinkedIn integration enables attendees to share interesting sessions with their peers and extend the reach for presenters and event organizers. Unique presentation slide tweeting to share key insights with others and integration of Twitter technology to allow easy networking.
Real-Time Updates and Reminders
Attendees receive just-in-time notifications about their scheduled sessions, program changes, and Twitter updates without ever leaving the first screen.
Rich Experience
EventPilot Plus supports PowerPoint slides, YouTube video, PDFs, handouts, surveys, live polls, note taking, and more to create a valuable reference app that is used by attendees long after the event.
"EventPilot conference apps expand the event experience from merely accessing meeting programs to managing the event experience and engaging with other attendees," says Silke Fleischer, CEO and co-founder of ATIV Software. "SOA attendees are busy professionals that benefit from powerful and time saving features in the EventPilot app."
Availability
The free iPhone and iPad conference app is available now in the App Store. The free Android event app is available in the Android market. A web version for BlackBerry and other web- enabled devices is available at http://tinyurl.com/SOAAME2011.
About the Society of Actuaries
The Society of Actuaries is the largest professional organization dedicated to serving 21,000 actuarial members and the public in the United States, Canada and worldwide. The SOA's vision is for actuaries to be the leading professionals in the measurement and management of risk. For more information, visit http://www.soa.org.
About ATIV Software
ATIV Software offers EventPilot, the customizable mobile conference app for event and meeting planners. EventPilot is available as a native app for the iPhone, iPod Touch, iPad, and Android as well as a mobile web version for all other web-enabled devices including BlackBerry. For more information, visit
http://www.ativsoftware.com
.