FOR IMMEDIATE RELEASE
ATIV Software launches mobile conference app for Event Solutions Idea Factory 2011 in Las Vegas
The Idea Factory event app empowers conference attendees and enables effective real-time communication for meeting planners
SANTA ROSA, Calif. – January 17, 2011 – ATIV Software today launched the Idea Factory 2011 mobile app for Event Solutions' annual conference and expo for event planners, producers, designers, and marketers. The app is based on the EventPilot Plus solution which offers a media rich, reliable, and persistent event experience that helps attendees get the most out of their conference participation.
"The EventPilot app is an event industry game changer since it's not just a mobile website. We are thrilled being the first in our field offering it to our attendees," said Pauline Hoogmoed, CEO of Event Solutions. "With multiple, dynamic education sessions going on at once, over ten different event categories, and over 800 booths, the conference app not only keeps attendees up to date but empowers them with easy access to the complete scope of the event. The intuitive navigation and personalization options help taylor the attendee's learning experience to their own personal goals."
"This will be the first time we will be able to get information into the hands of our attendees in real time, especially last minute changes. In years past, we would rely on word of mouth, printed materials and emails – these options are expensive and much less effective," said Chad Borenz, Multi-Media Marketing Manager for Event Solutions. "As a producer of a conference for event planners, it's important to us to demonstrate the latest technologies that help our attendees in their lives. EventPilot allows us to do that."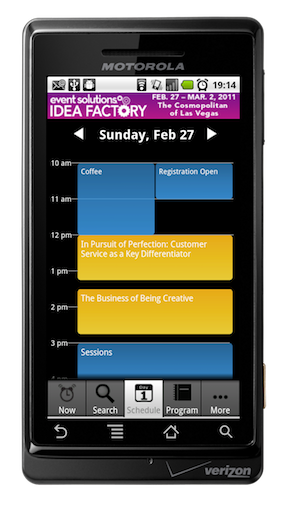 Features of the Event Solutions Idea Factory 2011 conference application are based on the EventPilot Plus edition and include:
Native app to ensure wifi independence
Full iPad support for best attendee experience
Real-time organizer alerts
Knowledge sharing via Twitter
Complete interactive conference program and animated floor plan maps
PowerPoint presentation slide viewer with slide tweeting
Note taking, speaker and session rating, and note sharing
Networking with speakers
Exhibitor details with weblinks and animated expo hall location
Custom organizer tabs for additional attendee relevant information
"With EventPilot, event and meeting planners realize tremendous time savings. Unlike printed programs, the app can be updated any time and attendees can easily find the information relevant to hem," said Silke Fleischer, Co-Founder of ATIV Software. "EventPilot is built to meet the growing demands of attendees while helping event producers to raise the bar and effectively communicate to their attendees."
The free Idea Factory 2011 meeting app is available as a native app for iPhone, iPod Touch, iPad, and Android devices – ideal for venues with limited Internet connectivity or cell reception. A mobile optimized web version allows all other device users to easily browse the entire conference program.
More information about EventPilot is available at ATIVSoftware.com.
The download link and a one minute feature video for the free app are available athttp://ativsoftware.com/
Availability
The free iPhone app is available now in the App Store. The free Android app is available in the Android market. A web version is available at www.ativsoftware.com/apps.
About Event Solutions
Since 1996, Event Solutions has been giving corporate, association and independent event and meeting professionals the resources they need to navigate the rapidly changing landscape of the industry, from cutting-edge features on trends and technologies to behind-the-scenes profiles of some of the industry's most prestigious events. For more information, visit www.es-ideafactory.com and www.event-solutions.com
About ATIV Software
ATIV Software offers EventPilot, the customizable mobile conference app for event and meeting planners. EventPilot is available as a native app for the iPhone, iPod Touch, iPad, and Android as well as a BlackBerry widget and mobile web version for all other web-enabled devices.
For more information, visit www.ativsoftware.com
###